November 16, 2012
London Health Sciences Centre congratulates Ismail El-Assaad on becoming the 2012 recipient of the CARE Centre Joan Lesmond Internationally Educated Nurse of the Year Award.
El-Assaad is a registered nurse in the Intensive Care Unit at LHSC's University Hospital. He has worked as a nurse instructor and senior nurse in Lebanon and the United Arab Emirates before immigrating to Canada in 2009.
"We consider ourselves extremely fortunate that Ismail has made London and LHSC his home," says Bonnie Adamson, LHSC President and CEO. "Our staff and our patients benefit from his skills, compassion and commitment and we are thrilled that he is being recognized with this prestigious award."
The CARE Centre for Internationally Educated Nurses (IEN) is a not-for-profit professional organization funded by the Ontario Government and the Government of Canada, providing immigrant nurses with the one-on-one case management, language and communication skills, exam preparation, professional development, mentoring and networking to be successful in the nursing profession. The award presented to El-Assaad is named after the late nursing leader Dr. Joan Lesmond, who championed the cause of IEN education and integration.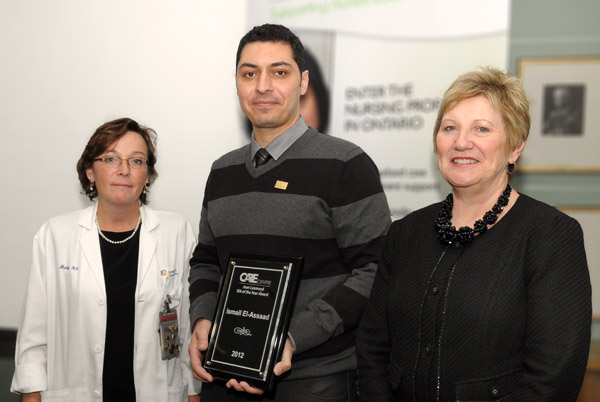 Ismail El-Assaad (centre) received the CARE Centre's Internationally Educated Nurse of the Year Award on Nov. 15. Joining him as he accepted his award are LHSC President and CEO Bonnie Adamson (right) and Mary Kroh, a coordinator in LHSC's Intensive Care Unit.