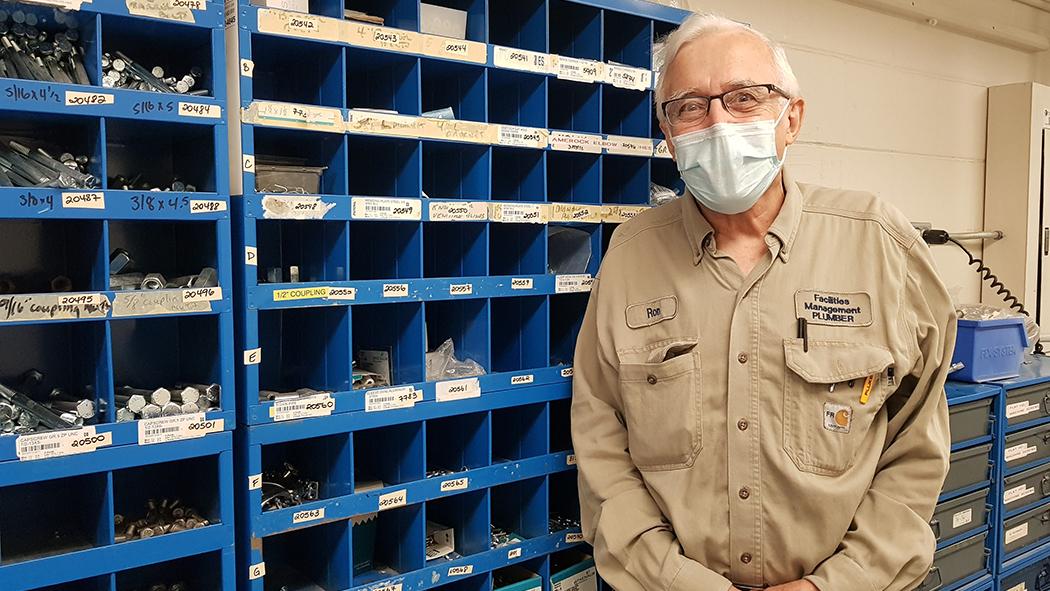 December 9, 2021
On December 10, Ronald Gates, a plumber in the facilities management department at University Hospital (UH), will be celebrating his 48th anniversary as an employee at London Health Sciences Centre (LHCS), or as he calls it, his second home.
"For many years, UH has been an extension of my day, which I enjoy. If I am not here working, I am at home and vice versa," says Ron, as most of their friends call him. "Since I started working here in 1973, I never thought about how long I would be here. After some time, I stopped thinking about the years I had been working in the same place. When someone enjoys what they are doing, they lose their sense of time."
However, fulfilling such a significant achievement was not always easy. Undoubtedly, throughout this period, the hospital changed, and with it, the challenges of his profession. "I had just come from working in construction, so being close to an environment like a hospital was entirely new. Besides, the equipment was also different, and from then to now, the hospital has evolved significantly. The plumbing department has its boss, and if there was any problem, we had to discuss it with the boss. We worked independently, so there was no participation from the human resources department like we have now, which makes everything much more manageable and easier."
When Ron is asked what this achievement means, or why he has continued working for so long, he answers, "I can only think of all the moments when I come home at night after a hard day at work that, perhaps, I made someone happy and that I can still provide for my family, so they are never in need of anything. It sounds simple, but that's what it means to me."
Despite enjoying his job every day, retirement is not something Ron hasn't thought about. However, his determination to continue contributing to UH often keeps him away from retirement. "As long I feel helpful, I'll come back, but I wouldn't like to retire from one moment to another; I would like the process to be slow. That would be a different and new challenge for me, but I will know how to overcome it," he says.
Ron's 48 years working at LHSC deserves to be recognized and celebrated.
Congratulations on this incredible accomplishment.