May 25, 2012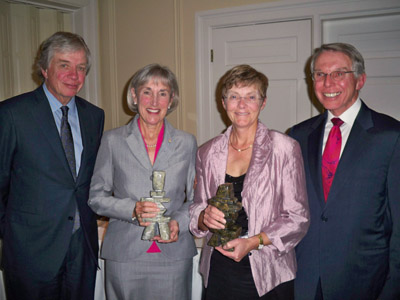 Dr. and Mrs. Rorabeck and Dr. and Mrs.  Bourne with Inukshuks traditionally awarded to Laudable Londoners.
The 13th Laudable Londoners annual event was held on April 24 and for the first time in its history two extraordinary couples were honoured - Dr. Robert and Mrs. Donna Bourne and Dr. Cecil and Mrs. Linda Rorabeck.
Laudable Londoners is a fundraising and friend-raising event in support of Participation House Foundation, raising awareness and funds for the highest priority needs of the organization. This year, the event raised over $26,000.
"It was an honour to be considered and we were pleased to be a part of an event which highlighted the work that Participation House does in our community," says Dr. Rorabeck.
Participation House supports individuals with developmental disabilities and/or complex physical needs to live in their own homes, participate in community and enjoy life with family and friends.
Drs. Bourne and Rorabeck are among the world's leading experts on hip and knee replacement. Beginning in 1978, they engaged in a highly successful orthopaedic surgery collaboration at LHSC's University Hospital. The team approach focused on patient care, education and research, as well as international humanitarian endeavours.
In 2009, the new state-of-the-art Rorabeck Bourne Joint Replacement Clinic opened at University Hospital with the support of these two noted orthopaedic surgeons and the generosity of donors through London Health Sciences Foundation.  
"It was a great privilege for my wife, Donna, and I to be honoured together with Cec and Linda Rorabeck, longtime friends who we admire very much, as Laudable Londoners. Thank you to the large number of people who attended this special event," says Dr. Bourne. "There was a real University Hospital presence with many colleagues in attendance; Bill Brady, a former LHSC Board Chair, serving as Master of Ceremonies; and Dr. Bill Wall, a longtime friend and colleague, offering reflections on our careers."
Also celebrated was the couple's support of ten Operation Walk-Canada medical missions to Guatemala and Ecuador which have provided more than 500 free total hip and knee replacements to patients who otherwise could not afford these life-changing medical interventions.