October 24, 2013
Half a century of dietetic internship at London Health Sciences Centre was celebrated last month as graduates, program directors and preceptors representing classes from 1970 through to 2012 gathered to pay homage to 50 years of educational excellence.
Marlene Wyatt, Director of Professional Affairs, Dietitians of Canada described LHSC's program as "a highly-sought after with a proud history that is part of a leading teaching hospital complex" adding LHSC is "recognized for its strong commitment to teaching and to students."
A presentation prepared by planning committee members Yoli Jakus, Carol Mason-Taylor, Nancy Woodcock, Elisa Wilson and Leslie Harden provided an opportunity to share memories and reflect on the intern experience from 1963 through to 2013.
"Our first graduates completed their assignments using pencil and paper, calculators and computers were years away," they told the audience. Dietetics education and practice evolved as new research and treatment expanded the role of the dietitian in the interprofessional team.
"Many friendships were made through internship and have stood the test of time," said Jakus. A number of internship graduates became staff of LHSC and continue today as registered dietitians and program preceptors.
Among other acknowledgments, past internship program leaders Louise Parrott, Reny Wahl, Bridget Davidson, Sue Behari-McGinty, Dianne Gaffney and current lead Leslie Harden were all recognized for their support of the program and ongoing focus on excellence. Special recognition was provided for Francis Eyre, Deirdre Van Lane, and Elizabeth Strachan, all of whom were unable to attend.
"The day made me feel proud to have been involved with such a reputable organization," said 1983 grad Carol Donovan.
To see photos from the celebrations, visit LHSC's Facebook page.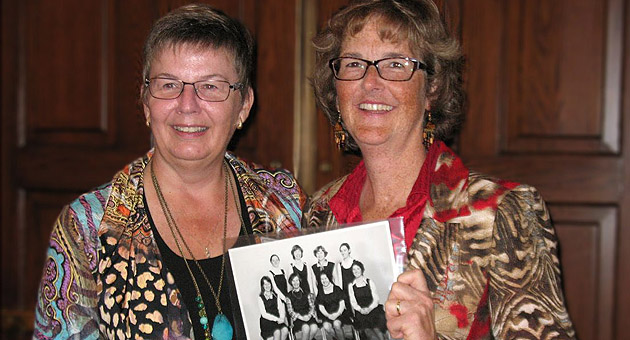 Dianne Steele and Joan Gibson holding photos of their 1977 graduating class.