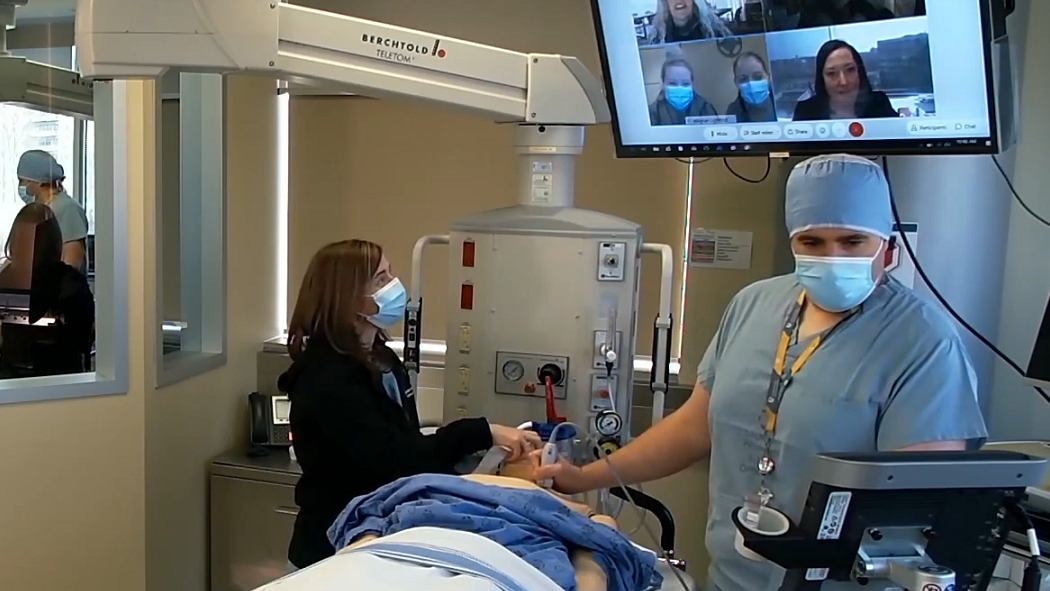 The team at LHSC's CSTAR facility test the new virtual simulation technology they are developing.
March 30, 2021
Since the beginning of the pandemic, the team at London Health Sciences Centre's (LHSC) Canadian Surgical Technologies & Advanced Robotics (CSTAR) has been working with different areas throughout the hospital to improve safety and processes through providing simulations. With the second wave of COVID-19, outbreaks and subsequent staff and physician cohorting across the organization, CSTAR created an innovative virtual platform to provide training simulations which will launch later this spring.
Running through a situation before it happens in a simulation enables physicians and staff to learn how to perform and improve in a safe environment. CSTAR staff work with clinical subject matter experts to develop the simulations which are either run in the units or held in CSTAR at University Hospital. Simulations can be focused on process improvement, testing the environment, enhancing clinical skills, crisis management and teamwork.
The pandemic has provided the team an opportunity to innovate by trying to provide training online. While there are several products available to purchase, they did not fully meet CSTAR's requirements.
"We decided to devise our own system to meet our clients' needs," explains Scott Sumpter, CSTAR simulation technology consultant. The platform CSTAR created enables real-time two-way communications, which allows numerous remote participants from different locations to be actively engaged in the session. Multiple camera angles provide remote participants with different views.
Since January, the CSTAR team has been developing and finalizing the virtual simulations. This has come with some challenges including lag time in the technology when sharing the videos, images and health readouts.
"We're very excited that we've been able to achieve under one second lag time. Remote participants can be actively engaged throughout the simulation when the results change because of the tactics and procedures used. The new information is streamed in real time to the remote participants," explains Sumpter.
CSTAR has been engaging different units and departments throughout the hospital to trial the virtual simulation and explore how it can provide benefit. They have been obtaining feedback to ensure the new system meets the needs of the learners, staff and physicians.
For Dr. Rob Leeper, a trauma surgeon and intensive care physician, who has collaborated with CSTAR on many simulations, "I was quite skeptical about the experience early on. However, on the day that we actually ran our virtual simulation I was a bit blown away by how smooth and seamless it actually was. It really was quite immersive and felt to me, and to the participants who we interviewed afterwards, like I was really right there. I was really impressed."
Dr. Leeper, CSTAR and other physicians consulted foresee the potential of the new virtual simulations as providing opportunities to engage remote, regional, national and international partners. For now, the CSTAR team remains focused on using the technology internally for simulations during COVID-19 that enable LHSC staff and physicians to provide safe care and a safe environment.