February 14, 2013
London Health Sciences Centre (LHSC) is proud to announce that it has exceeded its goal of $130,000 for the annual LHSC United Way Campaign, raising $140,717 to support those in need in our community.
Last year, LHSC succeeded in raising $121,000 in its annual campaign. This year's goal was increased to $130,000, recognizing that the need for community support has never been greater.
"Despite a difficult economic climate, the increased goal was a challenge I was confident our staff, physicians and volunteers could collectively meet, given their renewed commitment and enthusiasm for this year's campaign," says Bonnie Adamson, LHSC President and Chief Executive Officer. "I am very pleased that the dedicated staff and physicians of LHSC have surpassed the goal, demonstrating commitment to our community and building on our legacy of care."
This year's goal was achieved—and surpassed—thanks in part to the LHSC United Way Campaign's dedicated committee and champions. More than $15,000 of LHSC's total was raised through creative fundraisers such as chili cook-offs, a mini-stair climb in the North Tower at Victoria Hospital, and charity fitness events like Zumba and yoga. In addition, there were 69 new donors who contributed through payroll deduction, and many others used this campaign to increase their regular contribution.
"We are thrilled with the results of London Health Sciences Centre's United Way campaign," says Andrew Lockie, CEO, United Way London & Middlesex. "As demonstrated through their goal-breaking achievement, LHSC staff and physicians are truly committed to creating a strong and healthy community where everyone matters," adds Lockie.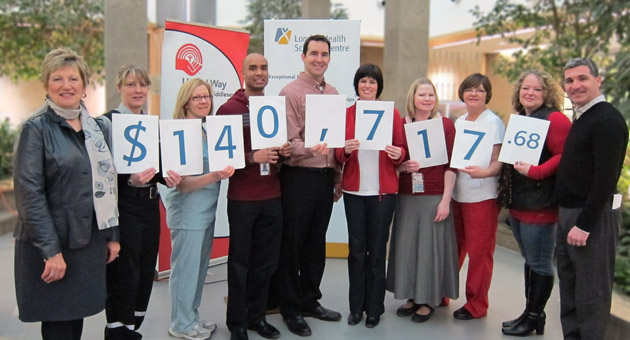 LHSC President and CEO Bonnie Adamson (left) is joined by Andrew Lockie, CEO of United Way London & Middlesex (right) and members of the LHSC United Way Campaign Committee and volunteer champions to reveal the organization's total for its annual campaign. Staff and physicians exceeded its goal of $130,000, raising a total of $140,717.68.