February 12, 2015

Thank you to all the LHSC staff, physicians, family, friends, and volunteers who rolled up their sleeve in 2014 to donate blood. Because of their efforts, LHSC succeeded in donating 493 units of blood through its "Partners for Life" initiative with Canadian Blood Services (CBS) last year – greatly surpassing the goal of 400 units!
"As the biggest users of blood products in the region, LHSC has an imperative to help maintain a stable blood supply," says Murray Glendining, LHSC President and CEO. "I am proud and appreciative of all those staff, physicians and volunteers who rolled up their sleeves to donate. Their support for this vital community service is one more way LHSC continues to provide high-quality care for our patients."
Seven-year-old Andie Morrison knows all about the importance of donating blood. She recently received her 100th blood transfusion, a necessary part of her ongoing treatment for Diamond Blackfan Anemia (DBA). She has required regular blood transfusions since she was just nine weeks old. 
It is patients like Andie who underscore the importance of LHSC's Partners for Life (PFL) initiative. Through this partnership with CBS, LHSC sets an annual target for blood donation and encourages staff, physicians, students, volunteers, and family and friends to help meet that goal. 
With areas such as its London Regional Cancer Program and the regional Trauma Program, LHSC is the highest user of blood products collected in the city and the fifth heaviest user of blood products in Canada which is why it is critically important that the organization help to maintain a stable blood supply.
Given last year's success, the 2015 goal has been set at 525 units. If you are a family member or friend of someone who works at London Health Sciences Centre, you can register as an LHSC "Partner for Life" the next time you donate blood. Please give today!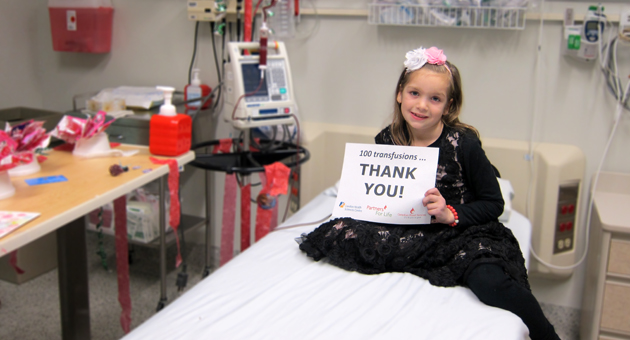 Andie Morrison, 7, recently received her 100th blood transfusion at LHSC's Children's Hospital. She says thank you to all the donors, including those LHSC "Partners for Life" staff, who rolled up their sleeve to give blood.