June 24, 2015
The heart team at London Health Sciences Centre (LHSC) is the first in North America to implant Medtronic's Engager Valve in a transcatheter aortic valve implantation (TAVI) procedure. The procedure was performed in February, less than one year after the team was the first in North America to implant another second generation TAVI device.  
Doug Cameron, 73, from Tilbury, Ontario, the first patient implanted with the device, underwent coronary artery bypass surgery five years ago, but was told at the time 'it was likely another surgery for his valve would be needed.' "Earlier this year I began feeling tired again, and it was becoming harder to breathe," he recalls.
LHSC cardiac physicians, Drs. Michael Chu, Bob Kiaii, Pantelis Diamantouros, Rodrigo Bagur, and Patrick Teefy, agreed TAVI would be the best treatment option and chose to use a new generation device that promises precise valve positioning. 
"This new generation device has arms that are inserted into the sinuses of the native valve. Once inserted, the device sits precisely where the valve is supposed to be and is aligned with the individual anatomy of the patient," says Dr. Diamantouros. The minimally invasive procedure restores normal blood flow through the heart and the rest of the body and reduces paravalvular leakage around the valve. 
Cameron "felt ready to go home that same day. I was breathing better and walking soon after I woke up." Discharged after two days in hospital, he returned to his job in security shortly after his surgery. "I worked in the fishing industry for 25 years and in security these past 10 years. I've never missed a day and I'm happy to still be working now." 
"It has been a privilege for our team to perform the first North American implants of this new generation heart valve prosthesis for the betterment of our patients. We believe that early adoption of these newer generation TAVI devices broadens our treatment options to improve the care that we deliver to these very high risk patients, while potentially reducing some periprocedural risks" adds Dr. Chu. 
 With access to four to four different types of aortic bioprostheses, physicians can select from multiple devices to suit the unique anatomies of patients.
"As medical and surgical technologies continue to evolve, we want to ensure that we are safely providing the latest treatments with the best outcomes to our patients. This can only be accomplished through a team approach. We have successfully implanted this new-generation device in ten other patients," explains Dr. Kiaii. Currently, special approval from Health Canada is required prior to proceeding with each individual patient. 
For Cameron, a successful TAVI implant means "plenty of energy to play with my grandchildren and great-grandchildren."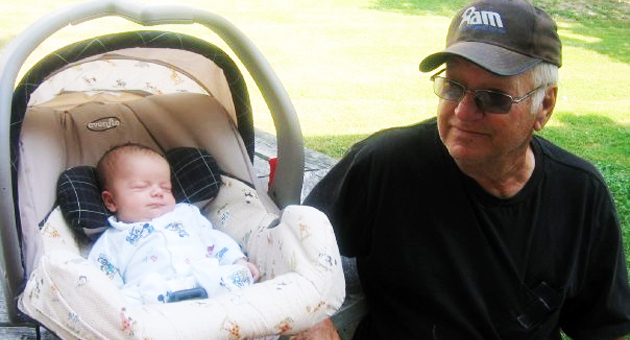 Doug Cameron and his granddaughter, Danica.