January 19, 2017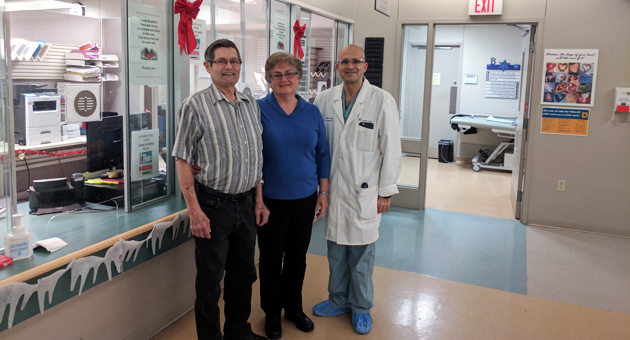 From left, Doug and Jean Dale with Dr. Bob Kiaii at clinic visit following the first implantation of the Neovasc Tiara transcatheter device in Ontario.
The cardiac team at London Health Sciences Centre (LHSC) is the first in Ontario to implant the Canadian made Neovasc Tiara transcatheter device to correct a leaky mitral valve. 
The surgery was successfully performed on 69 year old Doug Dale, a retired plumber and farmer from Clinton, Ontario on November 15, 2016. Before his surgery Dale would be easily tired and often short of breath. Despite the on-coming surgery, Dale was able to help his son plough the fields and prepare the farm for winter, "When I would get tired I would just switch jobs."
Now, fully recovered, Dale, has regained his appetite, is sleeping better, and is steadily improving his walking distance. "The colour has returned to Doug's face and he is expressing himself again. How you feel impacts how you express yourself and he is smiling again," says Doug's wife Jean. 
"Our cardiac team aims to adopt and utilize the latest proven minimally invasive trancatheter devices to offer our patients lifesaving treatment options otherwise inaccessible to them," says Dr. Bob Kiaii, cardiac surgeon, LHSC.  Without a surgical intervention, patients with valvular heart disease suffer from shortness of breath, fatigue, and live with a risk of heart failure and death. 
Tiara is implanted in the heart using a minimally-invasive transcatheter approach and is designed to replace the diseased native mitral valve without the need for open heart surgery or use of a cardiac bypass machine. Once inserted, the device sits precisely where the valve is supposed to be and is aligned with the individual anatomy of the patient. 
"There are patients whose medical history and particular anatomy exclude them from conventional treatment techniques, such as open heart surgery, and other minimally invasive open heart valve surgical procedures," adds Dr. Kiaii. "For these patients the Tiara provides a treatment option."
Dale has had three previous heart surgeries in 2009, 2012 and 2013 to treat valvular heart disease placing him at a very high risk to undergo conventional valve. 
The minimally invasive procedure restores normal blood flow through the heart and the rest of the body and reduces leakage around the valve. Immediately following surgery the heart pumps blood more efficiently and eventually patients are able to breathe regularly and regain their strength. 
"Our first procedure was performed successfully and we are delighted to have access to another tool that will improve the health and quality of the life of our patients who otherwise would have no other options," says Dr. Kiaii. 
Dale plans on spending his new energy with his children and grandchildren, in the fields, and on a trip with Jean.