March 5, 2014
London Health Sciences Centre is a proud supporter of Canadian Blood Services. As a "Partners for Life" organization, LHSC staff and physicians donated 365 units of blood last year. This is up from the previous year's total of 357 units.
As an acute care hospital, LHSC cares for the most medically complex and critically ill patients in the region. Having a stable blood supply is a key factor in being able to care for these patients, and with areas such as our regional trauma and cancer programs — both high blood-product users — LHSC uses the majority of all blood products collected in London.
Thank you to all those staff and physicians who rolled up their sleeve to donate. Don't forget to let the staff at CBS know that you work at LHSC the next time you donate to ensure your donation is included in LHSC's total.
LHSC's Partners for Life goal for 2014 is to collect 400 units of blood. To help us get there, call 1-888-2-DONATE and book and appointment today!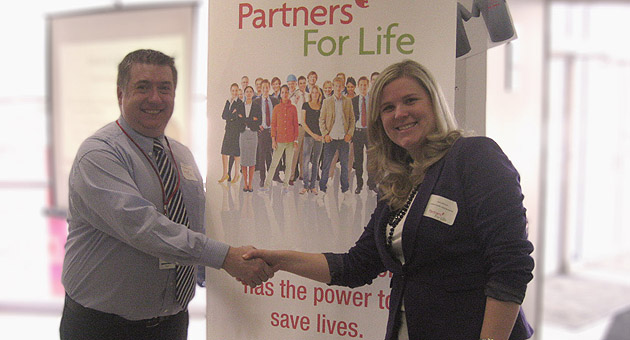 LHSC "Partners for Life" champion Kelly Almond is thanked by Chris Hardy, community development coordinator for Canadian Blood Services, at CBS' annual Partners for Life recognition event.