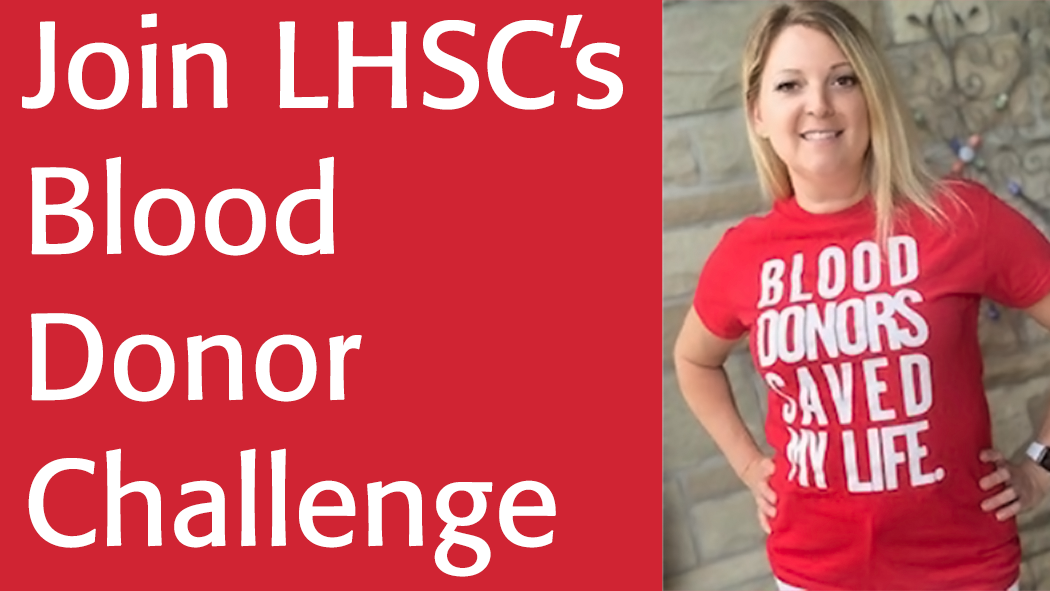 August 7, 2020
LHSC's challenge will run until Oct. 12
Carolyn Gallacher, a patient at London Health Sciences Centre (LHSC) who advocates for blood donation, knows the importance of a constant supply of blood and blood products; especially while the world continues to fight COVID-19.
In March 2020, just before the COVID-19 virus was declared a pandemic, Gallacher was hospitalized for a relapse of TTP (Thrombocytopenia Thrombotic Purpura), a rare autoimmune disease affecting her ability to produce blood platelets. Gallacher was admitted to LHSC with only 38 platelets left in her body – the normal amount is over 150,000. The only therapy available to save her life was plasmapheresis: the removal, treatment, and return or exchange of blood plasma or components from and to the blood circulation. Gallacher received six exchanges over the course of two weeks at LHSC under the care of nephrologist Dr. Susan Huang.
TTP is considered a rare condition, with a mortality rate of 90 per cent without any treatment. "Plasma exchange therapy has really transformed the disease outcome, reducing the mortality rate to as low as 10 per cent," says Dr. Huang. Patients with TTP can require up to 20-30 plasma exchange treatments per episode, with each treatment containing four to five litres of plasma products (which could come from 20 different donors). Gallacher has been battling TTP for 20 years, and each time she has a flare up the only therapy that can save her life is plasmapheresis. Over the last 20 years, she has received more than 200 bags of plasma and 30 bags of whole blood; meaning more than 200 people have donated plasma to keep her alive.
"Receiving blood is a life saver. Thousands of people just like me suffer from rare diseases that require blood treatments to keep us alive. If it was not for the selfless act of giving blood, thousands of people would not be here today to share their stories and make a difference in the world," says Gallacher.
Gallacher became involved as an advocate with the London chapter of Canadian Blood Services after finding out plasma can be in short supply in Canada. She enjoys visiting the centre to talk to people and thank them for their donation.
"For me, giving thanks is a way to heal emotionally," says Gallacher. "And it seems to give donors great joy to hear my story."
As a member of the CBS Partners for Life program, LHSC plays an important role in increasing awareness of the need for blood, and rallies our staff, physicians, and volunteers to make a strong and lasting commitment to blood donation. This is more important than ever during the COVID-19 pandemic, as CBS has seen its numbers decrease over the past few months. It is safe to donate during COVID-19. However, appointments must be booked in advance to ensure physical distancing measures. Patients, friends and family are invited to join LHSC's Blood Donor Challenge! Register online as a Partners for Life member (Partner ID: LOND012624), then visit www.blood.ca to book a donor appointment between now and Oct. 12.
Any LHSC Partners for Life member who attends a blood donation appointment (regardless of donation completion) during the challenge months will be entered to win a swag bag full of LHSC-branded items.
Gallacher urges you to find time to donate. "Disease and trauma did not stop while we fight this pandemic together as a community, so we need to keep the blood life line going. I know this time may be busy and stressful, but I encourage all of you to please think about spending an hour to continue saving lives."