May 1, 2013
Going home from hospital with your newborn baby just became safer, thanks to an innovative new program at the London Health Sciences Centre (LHSC). The Home Safety Device Program, funded by Children's Health Foundation, provides parents-to-be with a comprehensive safety checklist and a nine piece safety kit designed to reduce or eliminate preventable household injuries to children.
Approximately 3000 children a year are treated at Children's Hospital, LHSC for injuries sustained in the home. As the designated Lead Trauma Hospital (LTH) for the Southwestern Ontario region, LHSC plays a leadership role in the specialized care of injured children. The program coordinates services to meet regional needs and participates in local, provincial and national programs related to education, research and injury prevention.
"Injury is the leading cause of death for children and adolescents in Canada and we know that most injuries are preventable," said LHSC Trauma Specialist Jane Harrington. "The goal of this program is to help new parents understand how to protect their children from being injured inside the home, and to give them tools to keep them safe."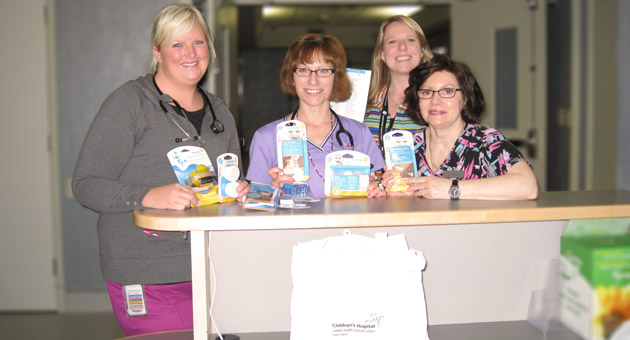 Mother-Baby Care Unit nurses (front from left to right) Kerri VanDyke, Jenn Chettleburgh and Caroline Yott display items from the home safety kit. Behind them, Trauma Specialist Jane Harrington holds a home safety checklist for new parents.
Safety kits are assembled by high school students looking to gain volunteer experience. They are distributed to expectant parents when they come into hospital for their 32 week check-up, and to new parents in the Mother-Baby Unit and Neonatal Intensive Care Unit at Children's Hospital. In the future, they will also be given to parents of children two years of age and under who come into the Children's Emergency Department with an injury received in the home.
"We have had a tremendous response from our nursing and clinical staff who are responsible for ensuring the kits make it into parents' hands. As a hospital community, we are acutely aware of the importance of injury prevention, and thanks to the support of Children's Health Foundation, this is one tangible way we can ensure that we are not seeing children come into our care with injuries that might have been prevented with a few simple precautions," says Harrington.
The program anticipates distributing between 2800-3000 kits per year.