February 17, 2016

Last year was significant for LHSC's Partners for Life initiative with Canadian Blood Services – not only was the hospital recognized nationally for its contributions to the blood system in September 2015, but its staff, physicians, family, friends and volunteers succeeded in meeting LHSC's goal of contributing 500 units of blood for the year with a total of 504 units collected!
"This Partners for Life figure is a significant achievement, as it represents the highest total for any participating hospital in Ontario in 2015," says Murray Glendining, LHSC's President and CEO. "Thanks to all who rolled up their sleeves to donate because as the highest users of blood product in the region, LHSC has an imperative to help maintain a stable blood supply."
Canadian Blood Services has indicated that in 2016 there  is a strong need for new donors. Currently, they rely on existing donors to donate more frequently in order to meet their collection targets. But this approach is not sustainable as in many cases these existing donors may no longer be able to donate due to changes in health or life circumstances that prevent them from donating as often.
"We are grateful for all of the LHSC donations and we would like to encourage new donors, as one in two Canadians will either need blood or know someone who will at some point in their lives." says Marisa Gatfield, Canadian Blood Services Territory Manager for London. While one in two Canadians are eligible to donate, only one in 60 actually does, meaning four per cent of Canadians sustain the blood system for all Canadians.
There is a particular need for blood donors during the last two weeks of February (which falls roughly 56 days after the Christmas donation period which is typically low, and so fewer follow-up visits were booked). 
"For 2016, LHSC's goal will once again be to donate 500 units of blood, with a particular focus on increasing the number of first-time donors who sign up as an LHSC Partners for Life member and make their first donation," says Glendining. 
"Thank you for rolling up your sleeve – thank you for giving life!"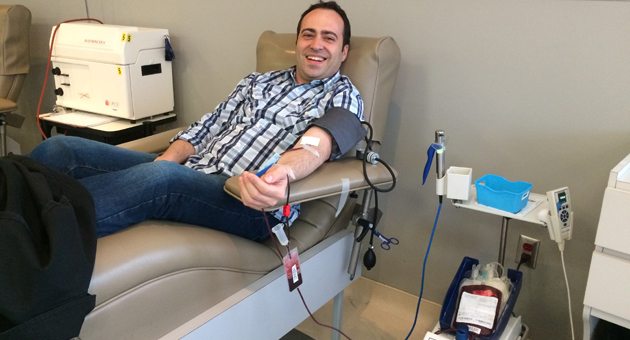 Paul Rolo, Project Consultant in LHSC's Strategy & Project Leadership, donated blood in April 2015 as part of "date night" with his wife. Paul's donation was just one of the 504 units of blood given by LHSC staff, physicians, family, friends and volunteers last year.