March 12, 2013
Heather Whittle and Charlotte McCallum, both LHSC Nurse Practitioners describe themselves as having 'an insatiable thirst for knowledge'. Their ongoing pursuit of academic qualifications since they graduated with their nursing diplomas in 1980 and 1990 respectively, prove just that. "We are both advocates for the nursing profession and believe in leading by example," says McCallum. 

Being the first two LHSC NP's to complete the University of Toronto's NP in Anesthesia Care program, Whittle and McCallum where taught advanced clinical training in sedation, anesthesia and pain management. The move to NP's in Anesthesia Care is designed to alleviate surgical wait times and improve access to health care for patients in Ontario.

"Those who complete the program will have the knowledge and skills to provide a continuum of care before, during and after surgery," says Cynthia Struthers, faculty and lecturer Lawrence S. Bloomberg Faculty of Nursing, University of Toronto.

McCallum and Whittle officially graduate from the program in June, but have already integrated their new skills into LHSC's anesthesia department. Under the guidance of Dr. Davy Cheng, Chief, Citywide Anesthesia, they will be working as part of the Acute Care Team in anesthesia, looking after complex surgery patients who already have pre-existing chronic pain that becomes compounded with the acute pain that comes from being post-op. This hands-on work with patients in pain management is happening at both UH and VH.

After completing their course work in Toronto, McCallum and Whittle, both Masters graduates, completed their 600 hours of clinical placement back at LHSC under the leadership of Dr. Vanessa Burkoski, Vice President and Chief Nursing Executive, Quality, Patient Safety and Professional Scholarly Practice and Jennifer Yoon, Director, Nursing Professional and Scholarly Practice.
"After graduating from this program, our NP's are able to combine their competencies as advanced practice nurses, with their education, and go on to promote advances in patient care within anesthesia," says Burkoski. "Both Heather and Charlotte are strong advocates for the nursing profession and I commend them on taking on a lead role in a new specialty area."
Dr. Jim Watson, Citywide Anesthesia, was instrumental in ensuring McCallum and Whittle set up their clinical rotations and ensured they had a broad spectrum of pre, intra, and post-operative patients to further develop their skills. 
"The role of Nurse Practitioner in Anesthesia Care opens up new opportunities to enhance patient preoperative assessment and postoperative care which can improve patient outcomes and patient flow through the system. Our department and the broader health system can gain a better understanding of how our choices and the available resources influence patient recovery from surgery and anesthetic care," says Watson.
McCallum and Whittle agree that they are finished schooling for now, as they want to devote their energies to developing their new roles, but continued education is never completely off the table.
"You never know what new and exciting opportunities might present themselves," says Whittle with a smile.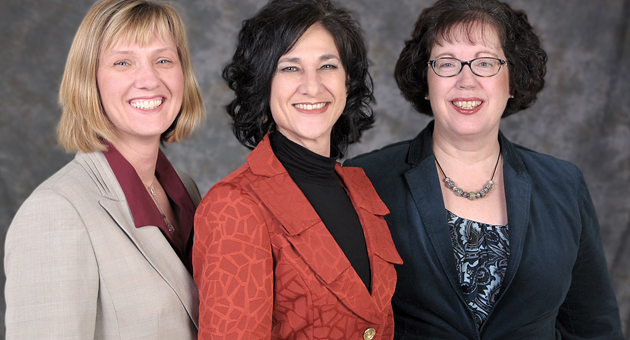 Charlotte McCallum (left) and Heather Whittle (right), LHSC are among the first graduates of the University of Toronto's  Nursing Practitioner in Anesthesia Care Program , pictured with Dr. Vanessa Burkoski (centre), Vice President and Chief Nursing Executive, Quality, Patient Safety and Professional Scholarly Practice.