May 11, 2012
Three local members of provincial parliament (MPPs) joined London Health Sciences Centre registered nurses (RNs) at work today to participate in the Registered Nurses' Association of Ontario's (RNAO) 12th annual Take Your MPP to Work event.
Chris Bentley, Minister of Energy, along with NDP MPP Teresa Armstrong and PC MPP Jeff Yurek toured patient care areas at LHSC's University Hospital to learn more about how RNs help improve patients' health outcomes and quality of life by providing knowledge-based care driven by evidence, skills, compassion and dedication.
"At London Health Sciences Centre more than 3,200 nursing staff provide exceptional experiences for patients every day and we welcome the opportunity to share their work experiences with MPPs," said Dr. Vanessa Burkoski, LHSC Vice President, Professional Practice and Chief Nursing Executive.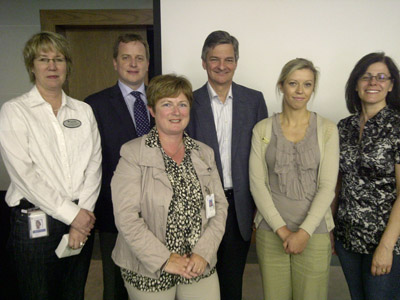 Local MPPs toured areas at LHSC's University Hospital as part of RNAO's Take Your MPP to Work Day. Pictured here are, from left: Jennifer Cross, nurse practitioner in Multi-Organ Transplant Program; Jeff Yurek, MPP (Elgin-Middlesex-London); Janet Hunt, RNAO representative; Chris Bentley, MPP (London West); Joanna McCabe, ICU staff nurse; and Teresa Armstrong, MPP (London-Fanshawe).