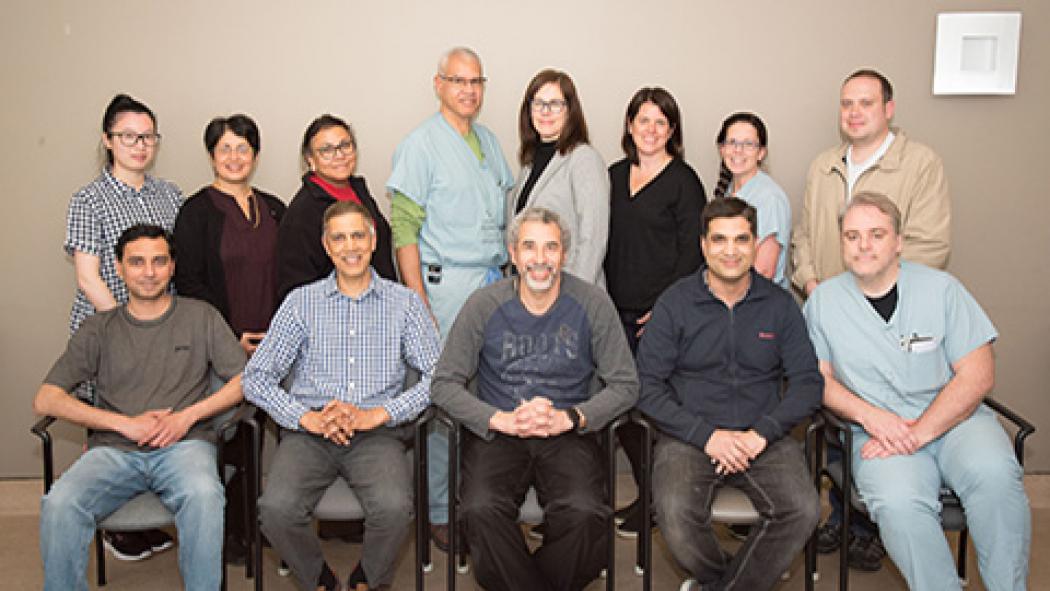 The Obstetric Anesthesia Team at Victoria Hospital celebrates their program being designated as a Centre of Excellence by the Society for Obstetric Anesthesia and Perinatology (SOAP).
July 3, 2019
London Health Sciences Centre's (LHSC) Women's Care Program at Victoria Hospital is the first in Canada to be designated as a Centre of Excellence by the Society for Obstetric Anesthesia and Perinatology (SOAP) for providing safe, effective, and evidence-based Obstetric (OB) Anesthesia care.
"Being designated as a SOAP Centre of Excellence is a point of pride for our OB anesthesiologists, and gives our patients reassurance that they are receiving the highest standard of care," says Dr. Homer Yang, City-Wide Chair/Chief, Department of Anesthesia and Perioperative Medicine, LHSC.
The Center of Excellence (COE) designation recognizes institutions and programs that demonstrate excellence in obstetric anesthesia care, set a benchmark level of expected care to improve the standards internationally, and provide a broad surrogate quality metric of institutions providing obstetric anesthesia care.
In the Women's Care Program, OB anesthesiologists provide care and manage the pain needs of mother and baby during 6,000 deliveries a year, including treating the region's most complex patients. There is an approximately 85 per cent epidural user rate and a 23 per cent cesarean delivery rate at LHSC.
"The COE designation means the anesthesia care we provide meets or exceeds recognized standards. Our OB anesthesiologists are committed to patient care and the profession. They speak nationally, internationally and are known to publish excellent research," says Dr. Indu Singh, Director, Obstetric Anesthesia, LHSC.
The criteria for the COE designation covers various domains including personnel and staffing; equipment, protocols, and policies; simulation and team training; obstetric emergency management; cesarean delivery and labor analgesia care; recommendations and guidelines implementation; and quality assurance and patient follow-up systems.
A few exceptional practices Victoria Hospital's OB anesthesia team implemented include:
The creation of a separate care pathway for bariatric obstetrical patients (those with a BMI over 40)
Creation of elective caesarean sections three days a week which removes delays for both planned and unplanned deliveries
Establishment of a high-risk OB anesthesia pre-admission clinic to allow the anesthesiologist, care team and patient to develop a plan ahead of time
Baby-healthy practices such as skin to skin care in the operating room
Pain rounds are carried out daily and demonstrate good pain relief, low pain scores, and a low complication rate
High risk patients are entered into an electronic watch list to facilitate awareness among team members.
Group members participate regularly in multidisciplinary case conferences of complex medical antenatal patients
"We do not practice care in a vacuum," explains Dr. Yang. "We value the collaborative relationships we have with obstetricians, family doctors, nurses, and midwives. The key to our care delivery model is that the patient remains the centre of whole endeavour."
A commitment to education is also a value shared among the OB team. The Michael Gunning Simulation Centre allows the entire inter-disciplinary team to practice high-stakes scenarios in a safe learning environment. Teaching rounds, multidisciplinary case conferences for complex patients, and an active OB Anesthesia Fellowship Program also contributed to the SOAP COE designation.
"Our success is a group effort that directly benefits our patients," adds Dr. Singh.