June 19, 2015

The Ontario Telemedicine Network (OTN) has selected Dr. Guido Filler as an inaugural Champion of Telemedicine Award winner to recognize his outstanding leadership in advancing patient care in London.
Ontario's health-care system relies on the leadership of local health-care providers to pioneer the adoption of innovative solutions to improve quality of care. Telemedicine is the use of technology for patients to receive care remotely, without needing to go to the doctor's office, and it is changing the way patients are treated in Ontario.
Dr. Filler is Chief of the Department of Paediatrics at Children's Hospital, London Health Sciences Centre and professor and Chair of the Department of Paediatrics at Western University . He is a strong advocate for telemedicine and is motivated to expand his virtual clinic to other locations in the south west region to effectively increase access and timeliness for patients and reducing the congestion and limited space constraints within the hospital.
"I feel very passionate about telemedicine, and I am very grateful for this award," said Dr. Filler as he accepted his award.
Several staff members from LHSC, including members from Dr. Filler's team, as well as representatives from OTN attended a ceremony on June 18 in his honour to present Dr. Filler with this award.
"At LHSC, we are committed to adopting new technologies that help to improve or enhance care delivery. For almost 10 years, LHSC has been using telemedicine technology in a number of our clinical specialties to improve patient care. It's exciting to have one of our telemedicine champions recognized by the Ontario Telemedicine Network," says Glen Kearns, Integrated Vice President, Diagnostic Services and Chief Information Officer for LHSC.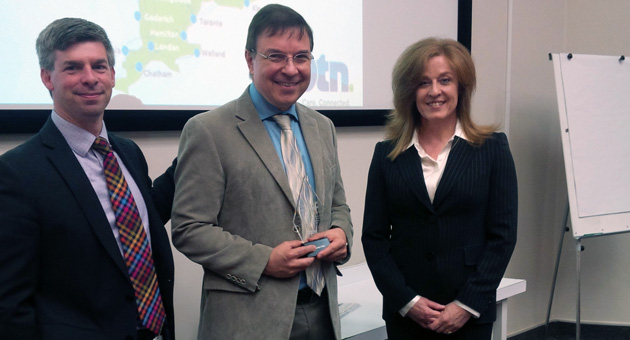 Glen Kearns, Integrated Vice President, Diagnostic Services and Chief Information Officer at LHSC and Sue Good, Executive Lead, Adoption & Strategic Partners with OTN congratulate Dr. Guido Filler (centre) on his Champions of Telemedicine Award.