May 15, 2013
Physiotherapists at LHSC are improving patient care through the use of a stationary cycling machine that allows patients to exercise their arms and legs while lying in bed.
"LHSC is one of the first hospitals in Canada to purchase a MOTOmed Letto, a bedside cycle ergometer," says Monique Prendergast, manager, physiotherapy practice, LHSC. "The machine enables the physiotherapist to control the amount of assistance or resistance that the patient experiences."
After seeing the new technology demonstrated at the World Confederation for Physical Therapy conference in Amsterdam 2011, LHSC's physiotherapists identified that this would benefit patients, especially those in intensive care. LHSC now has a MOTOmed at both University and Victoria Hospitals.
Critically ill patients are frequently perceived as being too sick to participate in physiotherapy (PT) but research has shown that this is both feasible and safe. Individuals who require prolonged mechanical ventilation are often exposed to long periods of inactivity and sedation that result in weakness of their skeletal and diaphragmatic muscles. It is important to try to decrease deconditioning as early as possible as muscle wasting appears to be the greatest during the first two to three weeks of the patients intensive care unit (ICU) stay.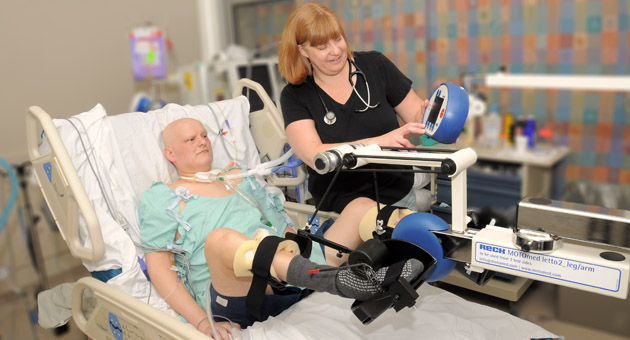 Johanna Fraser, physiotherapist in the ICU at University Hospital is using the MotoMed with her patient, Mark Sajka
"Research has demonstrated that early exercise training for patients in ICU was associated with shorter periods of mechanical ventilation, decreased ICU and hospital stay, and enhanced recovery of exercise capacity and physical function," continues Prendergast.
Jennifer Curry, physiotherapist in the critical care trauma centre at Victoria Hospital used the MOTOmed with a patient who had significant weakness of all four limbs. "Initially, the patient needed help from the machine as she was not able to begin the movement. Gradually, over a period of days she was able to do more and commented that although she had never biked in her life, she loved it now," adds Curry. As the patient became stronger, Curry was able to progress the PT program to include functional tasks such as moving from sitting to standing and transferring from a bed to a chair.
Johanna Fraser, physiotherapist in the ICU at University Hospital has been using the MotoMed with her patient, Mark Sajka. Due to leg weakness, he is unable to move his legs in bed, but by using the MotoMed, he is now able to cycle for 10 minutes. Sajka was excited to see the feedback from the computer screen that said 'you are cycling yourself.'
Other staff members in the ICU including Cathy Mawdsley, clinical nurse specialist, have commented on the positive benefits of this technology for the patients and their family members.
LHSC physiotherapists are connecting with PTs at the Ottawa Heart Institute, who are also using this equipment with their adult patient population, to share their experiences with this new technology.
Implementing the use of the MOTOMed at LHSC is an example of how physiotherapists are demonstrating scholarly practice and improving the patient experience.
MAY IS PHYSIOTHERAPY MONTH