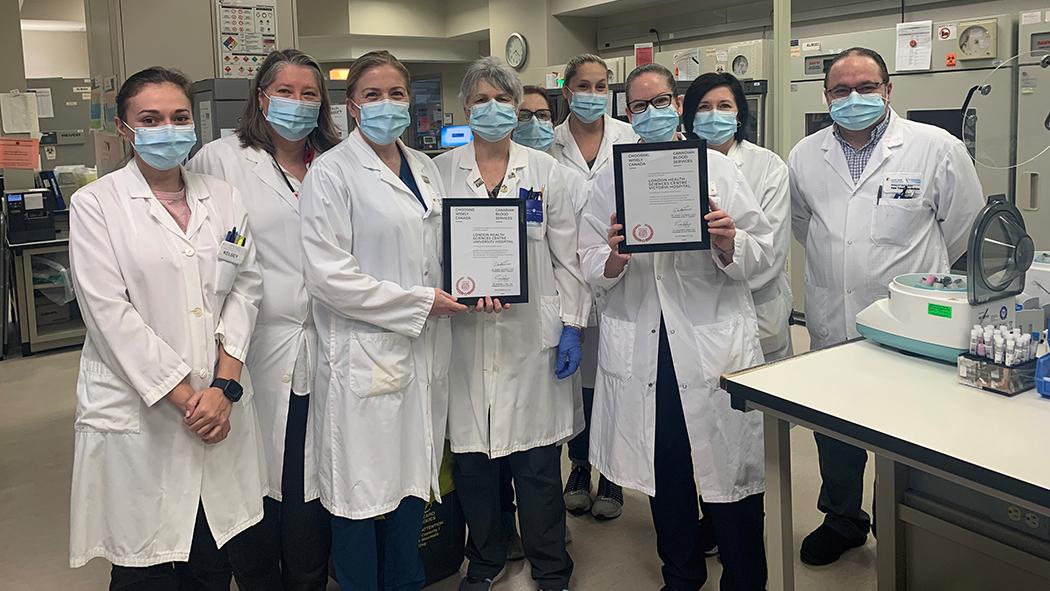 December 3, 2021
On September 21, London Health Sciences Centre (LHSC) was pleased to be recognized with the Using Blood Wisely distinction awarded by Choosing Wisely Canada (CWC) and Canadian Blood Services.
"As leaders in the health care industry, we decided to face this challenge and adopt best practices in transfusion medicine. Using Blood Wisely provides resources to support quality improvement to reduce unnecessary red blood cell transfusions," says Laura Aseltine, Senior Medical Lab Technologist, Pathology and Laboratory Medicine at LHSC.
For LHSC, as one of the top users of red blood cells in the country, maintaining this designation implies we are ensuring their blood supply is used appropriately and only when needed."This highlights our respect for the blood donors and our mission to uphold best practices for our patients," explains Amanda Chouinard, Medical Lab Technologist at Victoria Hospital. "This distinction provides our patients with the confidence that their transfusion treatments are meeting best practice guidelines."
The Using Blood Wisely initiative allows health institutions to ensure the use of blood is available to those who need it most. It also helps decrease inappropriate red blood cell (RBC) transfusion practices in Canada, which can directly and significantly affect the blood supply shortage and expose patients to potential harm.
According to CWC, achieving a measurable impact in reducing inappropriate RBC transfusions involves a concerted effort to assess adequacy against national benchmarks, as well as the adoption of evidence-based transfusion practices.
"Our first step in the process was to adopt the transfusion guidelines approved by the organization-wide medical advisory council that aligned with Choosing Wisely Canada's recommendations. We then upgraded our RBC order set to align with these guidelines and proceeded with a real-time review of each RBC order by the transfusion medicine medical laboratory technologist," says Chouinard. "From here, audits on inpatient data were reviewed over four consecutive months to determine if the orders met the two benchmarks set out for the Using Blood Wisely designation."
Based on current CWC recommendations related to RBC transfusions, the two benchmark indicators are:
1. The percentage of single-unit transfusions - a minimum of 65 per cent of RBC transfusion orders are for a single RBC unit only.
2. The percentage of RBC transfusions with a restrictive transfusion threshold - a minimum of 80 per cent of transfusions has pre-transfusion hemoglobin of 80g/L or less.
These indicators have been recognized by the Using Blood Wisely measurement working group as the standards of appropriate red blood cell transfusion practice. Hospitals that don't meet the benchmarks are eligible to enroll in a quality improvement initiative to implement practices proven to reduce inappropriate transfusions and qualify for designation upon completing the standards.
Congratulations to everyone involved in the attainment and maintenance of this important designation.