September 18, 2014
London Health Sciences Centre staff and leaders—including President and CEO Murray Glendining—was pleased to join community members and leaders at Budweiser Gardens for the United Way's campaign launch and 3M Harvest Lunch on Sept. 17, 2014. This annual event is when the United Way announces their campaign goal, set this year at $9 million.
The United Way is the largest non-government funder of social services in London and Middlesex County and is dedicated to making the greatest possible impact on three pressing issues: poverty, mental health and new beginnings and transitions. Staff, physicians and volunteer at LHSC see first-hand how many of these issues impact patients' health and well-being.
By supporting the United Way, LHSC employees are demonstrating that the care and compassion they provide to patients extends beyond the hospitals walls. Last year, LHSC raised more than $150,000 from their internal United Way Campaign, helping to demonstrate that we provide "Care Beyond Our Walls." LHSC looks forward to kicking off its own internal campaign for 2014 on Sept. 30 when this year's goal will be announced.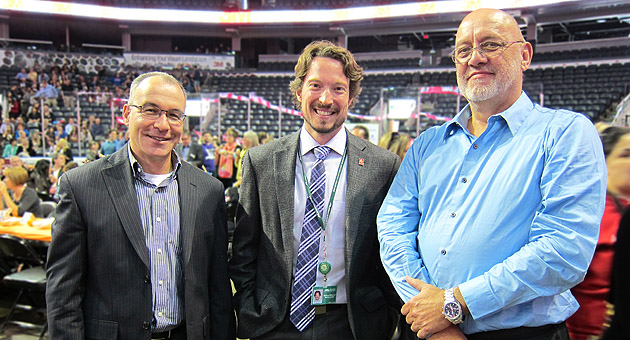 LHSC's President and CEO Murray Glendining (right) recently attended the United Way London & Middlesex 3M Harvest Lunch where he was joined by Dr. Chris Mackie, CEO of the Middlesex-London Health Unit (centre) and Tony LaRocca, LHSC's VP of Community & Stakeholder Relations as well as the executive sponsor of LHSC's employee United Way campaign.