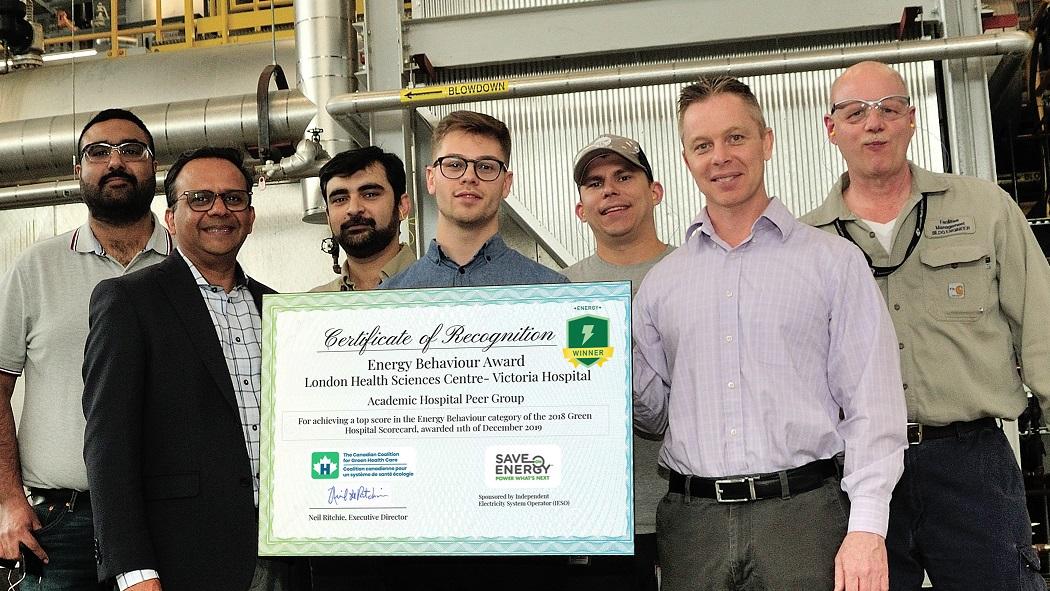 March 6, 2020
Facilities Management staff show off the Green Energy Award certificate. Back row, from left to right: Preet Sandhu, 1st Class Engineer / Chief Operating Engineer; Muhammad Jamal, 2nd Class Engineer; Travis LeBlanc, 2nd Class Engineer; and George Berendsen, 2nd Class Engineer. Front row, from left to right: Dipesh Patel, Vice-President of Facilities Management, Environmental and Support Services; Connor Swick, Energy & Sustainability Associate, and Mark Read, Coordinator, Power Plant.

The Canadian Coalition for Green Health Care has awarded London Health Sciences Centre (LHSC) with their new Energy Behaviour Award. The Coalition issues their Green Hospital Scorecard, an online survey which measures and compares the greenhouse gas emissions, energy efficiency and water conservation efforts of health-care organizations across the country. LHSC was selected from more than 100 hospitals for its dedication to the highest level of staff engagement towards minimizing the use of energy and supporting the transition to more sustainable energy development.

At LHSC, energy behavior doesn't stop with the behavior of individuals to reduce their personal energy use; it extends to corporate behaviour and support for energy savings projects and energy conservation measures. This comprehensive view includes partnerships and participation with frontline staff, corporate investments in energy saving projects, and direct support from senior leadership. This has resulted in significant increases in energy savings over the last five years, including electricity, natural gas, steam, and in our carbon emissions.

The strong culture of energy conservation at LHSC also extends to corporate initiatives. A team of energy specialists collaborate with project teams and clinical staff to identify needs and opportunities across the hospital's operations. This holistic, cross-department approach to project management ensures each initiative has a solid business case as well as an energy reduction benefit. The process feeds back into itself to continue to identify needs and achieving continuous improvements.

The Facilities Management department at LHSC has also seen additional benefits to executing energy conservation projects. For example, an LED lighting upgrade at the Victoria Hospital Power Plant resulted in improved safety and efficiency of the Maintenance & Repair Team, and better maintained equipment at the Power Plant.

Business Intelligence is also playing a large role in engagement with both staff and leaders. Robust data collection coupled with user-friendly online dashboards makes everyone feel more connected and interested in energy use. The trends and data points revealed give leaders the evidence they need to initiate larger and more sophisticated projects. Ultimately, the transparency of data helps builds trust and support for energy initiatives across LHSC.

Looking forward, LHSC's Energy Specialists are facing new challenges, but with a growing robust data collection and a culture of trust, they are confident in finding economical and environmentally conscious solutions for the future.