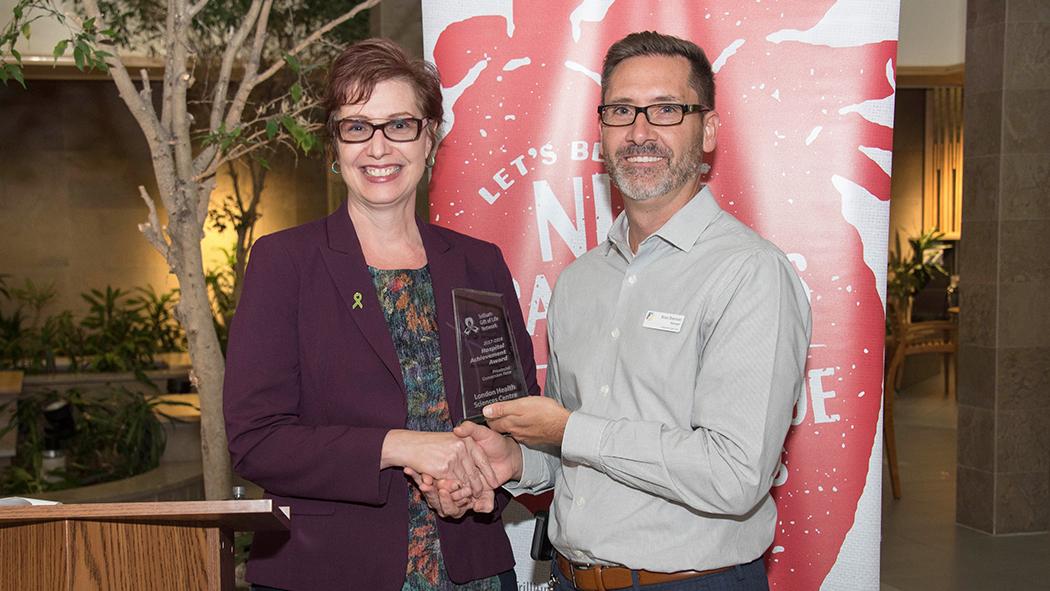 October 12, 2018
London Health Sciences Centre has been presented with a 2018 Provincial Conversion Rate Award for meeting or exceeding the target goal set by Trillium Gift of Life Network (TGLN), a not-for-profit agency of the Government of Ontario responsible for planning, promoting, coordinating and supporting organ and tissue donation for transplantation across Ontario.
The conversion rate is based on the number of potential organ donors that become actual donors. In 2017/18, LHSC exceeded the target rate of a 58 per cent set by TGLN and achieved a 60 per cent rate. The 21 organ donors from LHSC supported 56 organ transplants and ultimately gave 56 individuals across the province a renewed opportunity for life.
Under the Public Hospitals Act, LHSC is accountable to identify potential donors and to make families of potential donors aware of the possibility of organ donation. While these conversations occur most frequently in our Critical Care areas, they do also happen in other areas of the hospital. This award reflects how well we work together with TGLN to meet this accountability and save lives through organ donation.
LHSC's Multi-Organ Transplant Program at University Hospital is one of Canada's leading transplant centres. Our multidisciplinary teams care for transplant candidates as well as recipients who are recovering from heart, kidney, kidney-pancreas, pancreas, liver, and multi-organ transplantation.
With more than 1,500 people in Ontario waiting for a life-saving organ transplant at any given time, the need for people to register their consent to donate and to share their wishes with their loved ones remains great. 
One donor can save up to eight lives and registering as a donor or checking your status is easy. Look on the back of your photo health card for the word "donor" or check online at LHSC's BeADonor. You just need your health card number and two minutes to sign up or check!