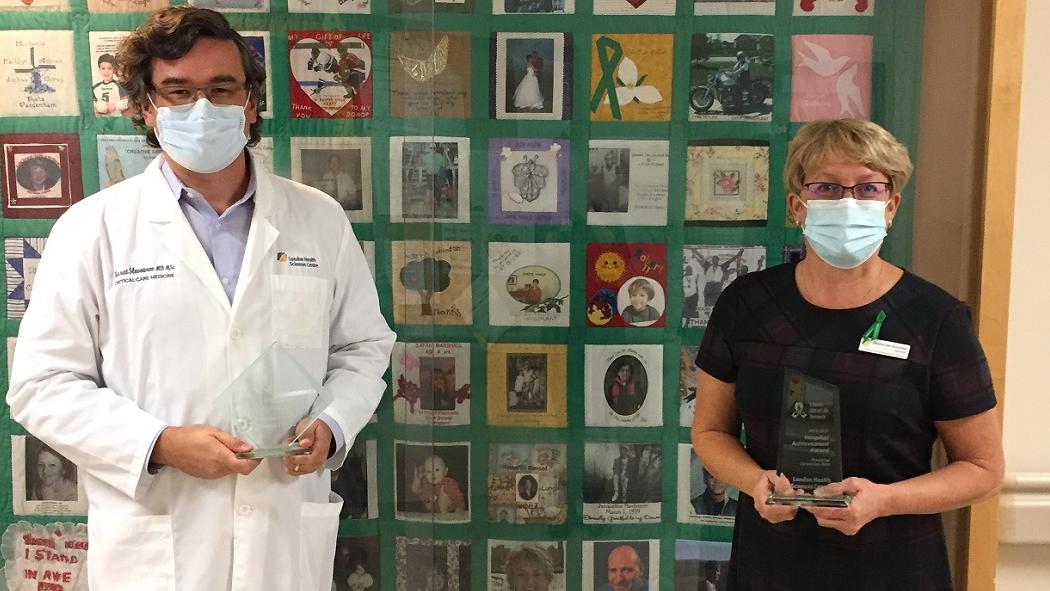 Team members representing the areas being recognized with the TGLN awards are pictured.
April 26, 2021
Members from several clinical teams that help to support organ and tissue donation at London Health Sciences Centre (LHSC) were once again recognized for their exemplary efforts by Trillium Gift of Life Network (TGLN), a not-for-profit agency of the Government of Ontario responsible for planning, promoting, coordinating and supporting organ and tissue donation for transplantation across Ontario. In a virtual ceremony held this past winter, LHSC was the proud recipient of a 2020 Provincial Conversion Rate Award and an Award of Excellence.
The conversion rate is based on the number of medically-suitable potential organ donors that became actual donors. In 2019-20, LHSC exceeded the target rate of 63 per cent set by TGLN and achieved a 73 per cent rate. The 35 donors resulted in 114 organs recovered and transplanted and 116 tissue donors enhanced the lives and vision of even more people.
For LHSC, success in this area does not come without the commitment and understanding of many people working together for a common goal. Families of critically ill patients are referred to TGLN organ and tissue donor coordinators by members of LSHC's clinical care teams, when appropriate, to discuss the possibility of their loved one becoming an organ donor. Referrals to this TGLN service are made in LHSC's adult critical care, paediatric and adult emergency departments, as well as Children's Hospital's paediatric and neonatal intensive care units.
"Together with our TGLN partners, we work closely with families to honour the wishes of their loved one," says Dawna Van Boxmeer, Director, Critical Care and Respiratory Therapy Services at LHSC.
"For many families the gift of life process brings a sense of comfort at a time of tremendous grief."
The Award of Excellence is given to organizations that have met the provincial conversion rate target for more than four consecutive years. This was LHSC's fifth consecutive year of surpassing the established target.
"The achievement of the Award of Excellence is especially meaningful as hospitals have faced a multitude of challenges over the last year with the global pandemic," says Van Boxmeer. "This is a testament to how deeply engrained the referrals process is in our practices and the unwavering commitment that our staff and physicians have to supporting organ and tissue donation. Without that constant, dedicated effort many Ontarians would continue waiting for the life-saving and life-enhancing support that organ and tissue donation provides."
At any given moment, there are more than 1,600 people in Ontario waiting for a life-saving transplant. Each April, Ontarians are encouraged to find out more about organ and tissue donation and to register their consent as a donor. Registration has a strong connection to donation. TGLN reports that when a potential donor has registered, families almost always proceed with donation but in the absence of registration, families only give their consent half the time.
As the home of an internationally renowned Multi-Organ Transplant Program at University Hospital, whose research, clinical innovations and expertise continue to improve patient outcomes, LHSC is pleased to partner with the Trillium Gift of Life Network to support Be A Donor registrations. One donor can save up to eight lives and as enhance as many as 75 more through the gift of tissue. Age alone does not disqualify someone from being a donor, nor does current or past medical history. Each potential donor is evaluated on a case-by-case basis. By registering to be a donor, you are helping to ignite hope among the individuals on the transplant waiting list and their loved ones.
It only takes two minutes to potentially change someone's life. Registering as a donor, or checking your status, is a quick and easy online process – you just need to visit https://www.beadonor.ca/campaign/lhsc and have your health card number available.