April 19, 2013
London Health Sciences Centre staff and physicians were recently recognized for their contributions during the first year of their participation in the 'Partners for Life' program with Canadian Blood Services.
LHSC far surpassed its blood donation target of 80 units with a year-end total of 357 units. In addition to the hundreds of lives this blood helps to save, this total represents 11 new donors and 39 re-instated donors (those who hadn't donated in 18 months or more). LHSC is one of the largest "Partners for Life" contributors in southwestern Ontario.
"Thank you to each individual who took the time to roll up their sleeve and donate," says Bonnie Adamson, LHSC President and CEO.
As an acute care hospital, LHSC cares for the most medically complex and critically ill patients in the region. Having a stable blood supply is a key factor in being able to care for these patients, and with areas such as our regional trauma and cancer programs — both high blood-product users — LHSC uses the majority of all blood products collected in London.
LHSC has renewed its commitment for 2013 and has significantly increased its blood donation goal to 400 units.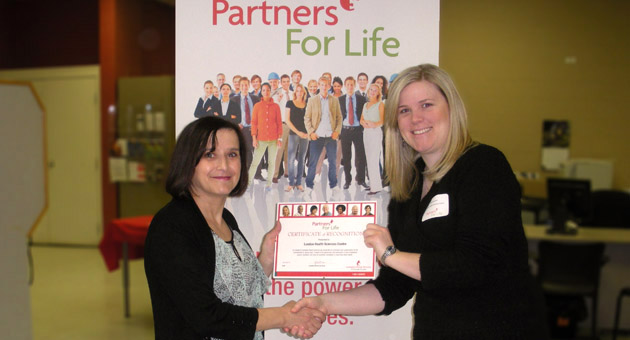 LHSC "Partners for Life" champion Kelly Almond (right) receives a certificate on behalf of London Health Sciences Centre, whose staff and physicians donated 357 units of blood during their first year with the Partners for Life program.