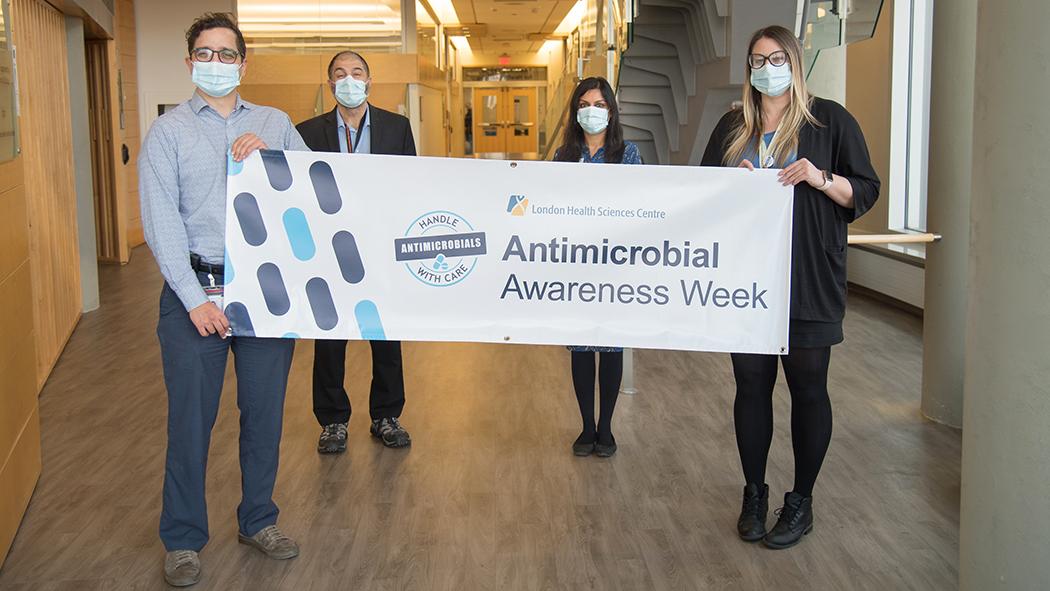 November 22, 2021
Antimicrobial Awareness Week (AAW) is being celebrated across LHSC from November 22-26. This year's campaign themed "Spread Awareness, Stop Resistance" calls for healthcare professionals, policy makers and the public to use antimicrobials carefully to prevent rising antimicrobial resistance. LHSC's Antimicrobial Stewardship team is recognizing this campaign through an all-virtual event and will "Go Blue" in alignment with the World Health Organization (WHO).
"Antimicrobial stewardship programs play a critical role in patient safety and healthcare quality through auditing, surveillance, and educational activities. These programs have been instrumental in fostering judicious antimicrobial use in a wide array of patient populations, including those with COVID-19 infection," says Dr. Sameer Elsayed, physician lead of the Antimicrobial Stewardship team.
As the world recovers from the impacts of the COVID-19 pandemic, the threat of antimicrobial resistance continues to rise. Antimicrobial drugs are widely used in hospital settings, and infections acquired through healthcare environments have a higher risk of being resistant to first-line drugs. Antimicrobial Stewardship Programs support and guide optimal antimicrobial prescribing, to limit antimicrobial overuse and reduce the spread of resistant infections. Now more than ever, it is vital that robust antimicrobial stewardship practices are in place to preserve the effectiveness of antimicrobials available for today's treatable infections, and prevent cases where few or no antimicrobial options remain.
LHSC's Antimicrobial Stewardship team is involved in a variety of initiatives to improve antimicrobial use, reduce antimicrobial resistance and optimize patient outcomes across clinical areas at LHSC. Some key activities of the Antimicrobial Stewardship Program include:
Develop clinical treatment guidelines and documents to assist with antimicrobial prescribing
Lead antimicrobial stewardship rounds for patients admitted to the Intensive Care Units
Influence policies and procedures related to antimicrobials, including novel COVID-19 therapies
Support projects aimed at evaluating antimicrobial usage and patient outcomes
Deliver institution-wide education on best practices for antimicrobial use
Collect and analyze data metrics to assess the quality and impact of stewardship initiatives
Check out LHSC on Instagram to learn more about antimicrobial resistance and how you can participate.