April 4, 2017

For the past 20 years, LHSC's Multi-Organ Transplant Program has been recognizing donor families and living donors with the Gift of Life medallion. What began as a special way to commemorate the lifesaving gift that donors and their families provide to others has now been adopted by many transplant programs across Canada.
In 1997, LHSC's Transplant Awareness Committee asked William Johnson, a London artist, to design a medal that could be given to donor families as well as living donors. If the family wishes, the donor's name can be engraved on the back of the medal. To date, more than 5,000 medals have been given out across the country.
Many donor families feel that the act of donation has helped ease their grief. Nothing can replace the loss of a loved one, although donation often allows family members to feel something positive has resulted from their tragedy. 
Living donors who have donated a kidney or part of their liver are also honoured. These donors are able to see the enormous benefit of their donation when looking at their recipient family member or friend. 
April is an especially significant month for recipients, living donors and donor families as it is BeADonor Month. Throughout April all Ontarians are encouraged to find out more about organ and tissue donation and register their consent as a donor.  This year, we are encouraging Ontarians to check their registration status – about 15% mistakenly believe they are registered when, in fact, they are not.  
Registering as a donor or checking your status is easy. Look on the back of your photo health card for the word "donor" or check online at LHSC's BeADonor. You just need your health card number and two minutes to check!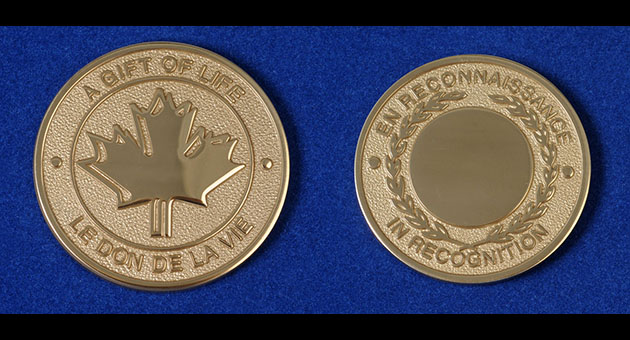 For the past 20 years, LHSC has been recognizing the generosity of donor families and living donors with a special medallion.