May 16, 2017

London Health Sciences Centre (LHSC) hematology oncology nurse practitioner Adrienne Fulford is the newest nurse in Ontario to obtain the Advance Practice Nurse (APN) Designation from the de Souza Institute, becoming the fifth nurse in all of Ontario to receive this honour. 
The de Souza Institute is an innovative learning centre dedicated to cancer care excellence and since 2008 has provided ongoing educational support and career counseling to nurses caring for cancer patients and families. In order to achieve the Advance Practice Nurse (APN) de Souza Nurse Designation, nurses must successfully complete extensive course work, as well as a 150 hour clinical fellowship.  
A special ceremony was held during National Nursing Week at LHSC to present Adrienne with her certificate. Dr. Jiahui Wong, de Souza Institute Program Director joined LHSC's Chief Nurse Executive Carol Young-Ritchie, and Director of LHSC's Cancer Services Cory Gosnell, in offering congratulations on this distinguished honour. Also on hand was Pat Stalker, who previously received a de Souza Oncology Nursing Certification designation in 2015. Pat, together with Dr. Wong, presented Adrienne with her de Souza pin and plaque. 
"The designation from the de Souza Institute offered me the opportunity to combine my two great professional passions – continued learning and making a difference in the lives of patients," says Adrienne Fulford, Nurse Practitioner, Hematology Oncology, at London Health Sciences Centre. "I am now able to better support our older adult acute leukemia patients and families with information, clarification and guidance through a decision making process that connects the information we provide with their values and expectations."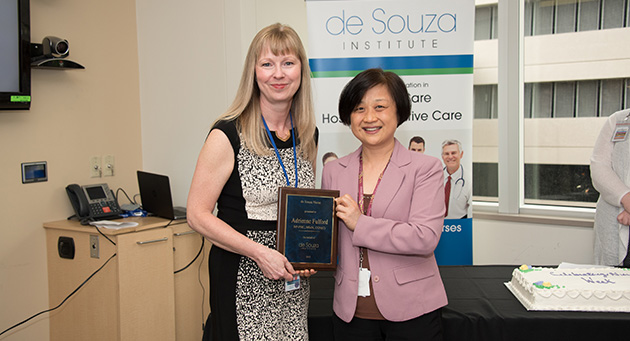 Adrienne Fulford becomes the first nurse in London to receive the de Souza Institute Advance Practice Nurse (APN) Designation.