June 19, 2012
Congratulations to the "Live Healthy Supporting a Cure (LHSC)" team who earned the Top Corporate Team spot in the Safeway Father's Day Walk/Run, a fundraiser for prostate cancer.
This team of runners raised the most of all the corporate teams participating, but more importantly they demonstrated their commitment to personal health and fitness by completing the 5km route.
Twice each year, the Fitness Program at London Health Sciences Centre offers staff an opportunity to participate in a 'Couch-to-5K' running program.
Beginning in early April, a dedicated group of approximately 30 staff members—many who had never run before—met three times each week, rain or shine. The group was led by a committed team of trainers including Fitness Program Lead Susan Rosato who motivated, encouraged, challenged and supported each runner, every step of the way.
"When we first started, we were running for a total of 90 seconds and when we finished, we were running for over 30 minutes. It was amazing to feel that progression," says Megan MacLeod, Department of Clinical Neurological Sciences. "Susan often gave us tips and tricks to help us get through the rough spots. Personally, I feel she is one of the best leaders a group could ever have. Her enthusiasm and positive energy is contagious."
With the 10-week program now complete, many of the group will continue their running careers and aspire to be able to run 10km.
"The progress of this group has been remarkable," says Susan Rosato, LHSC Fitness Program Lead. "I was so thrilled to watch each individual cross the finish line. It's been amazing to see them all blossom into such great runners. They should all be very proud of themselves!"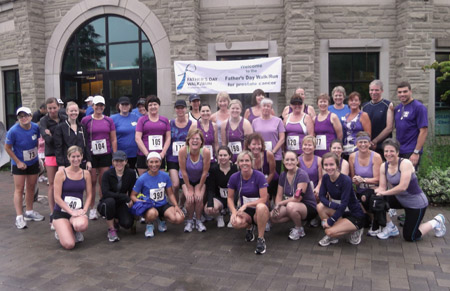 After a 10-week running program, the "Live Healthy Supporting a Cure (LHSC)" team successfully ran the 5km Safeway Father's Day Walk/Run for prostate cancer.