January 27, 2014
Through leadership from Professional Scholarly Practice, LHSC had 30 posters accepted at the recent annual conference of the Institute of Healthcare Improvement (IHI) conference.  
LHSC also participated in oral poster presentations, with Aukje "Mary" Reid providing an oral presentation for her poster The Patient Structured Day and Minakshi Sharma providing an oral presentation for her poster, Mobile Technology: Facilitating Patient Care and Increasing Productivity. 
It's Not a Hard Pill to Swallow: Implementing a Bedside Swallowing Screen for Acute-Stroke Care, a University Hospital 7IP initiative, won one of the Permanent Quality Journal Awards at the conference. 
Led by Penelope Letsos and Lynda Ryall-Henke, the UH 7IP initiative focused on the Clinical Neurosciences Unit where best practice guidelines indicated that patients should be NPO (nothing-by-mouth) until swallowing is assessed. The aim of the initiative was to implement a bedside swallowing screen completed by registered nurses at the bedside so that patients are appropriately nourished in a timely fashion, thereby meeting the best practice guidelines for stroke care.
"Congratulations to 7IP on their award, to Mary and Minakshi on their oral presentations and to all staff who submitted posters on their excellent initiatives to improve the patient and staff experience," "says Vanessa Burkoski, Vice President/Chief Nursing Executive, Quality, Patient Safety, and Professional Scholarly Practice.
The conference provided participants with learnings to:
·        Recognize habits that support quality healthcare and apply the basic principles for improving them
·        Define ways to reduce suffering and improve health
·        Develop an understanding of how to transform an organization
·        Identify elements for creating a culture of change that will lead to continuous improvement
Representing LHSC at the conference were: Dr. Vanessa Burkoski, Jennifer Yoon,
Minakshi Sharma, Cheryle Anne MacBelford, Aujke Mary Reid, Charlotte McCallum, Sheeva Woznuk, Rachelle McCready, Alan Gob, Lynda Ryall-Henke,Manuella Giuliano and Barb Watson.
Professional Practice would like to thank LHSF, Ikaria and leadership for their support of LHSC at the conference.
See more photos of LHSC's participation at the IHI conference on our Facebook page.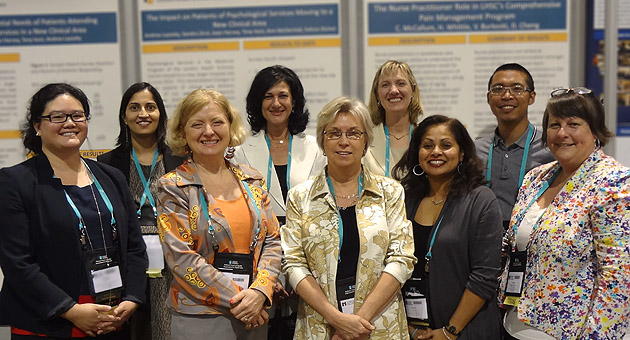 From left: Jennifer Yoon, Minakshi Sharma, Cheryle Anne MacBelford, Vanessa Burkoski, Aujke Mary Reid, Charlotte McCallum, Sheeva Woznuk, Alan Gob, Lynda Ryall-Henke