April 30, 2013
A diagnosis of chronic kidney disease (CKD) is life changing and the journey that lies ahead can be difficult. To assist patients in their journey, healthcare professionals not only treat the physical symptoms of the disease but also the emotional ones. The emotional support provided by professionals and volunteers plays a significant role in a patient's experience.
Marlene Rees-Newton, a social worker in the Renal Program at London Health Sciences Centre (LHSC), has been recognized by Cancer Care Ontario with a Human Touch Award (HTA) for the compassionate care she provides in her daily interactions with patients. The HTAs honour front-line cancer and renal healthcare professionals, providers and volunteers who provide exemplary and compassionate care in Ontario.
"This is truly a great honour to be recognized in this way by my colleagues. There are so many people I need to appreciate and thank. But I need to thank the many patients I have had the privilege of knowing," said Rees-Newton during her acceptance speech at the awards ceremony. "Because we often follow patients over the course of many years – from the time of diagnosis of kidney disease through to the end of life - we develop very special relationships with our patients and their families."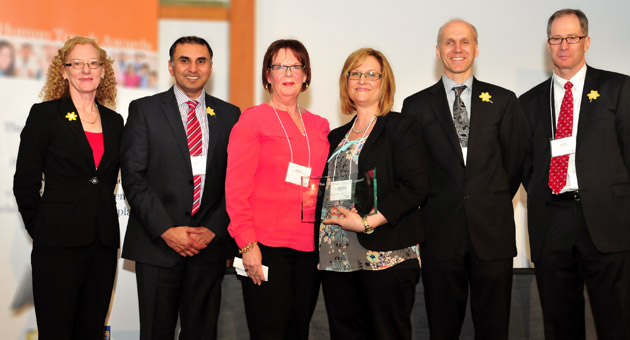 Marlene Rees-Newton, social worker, LHSC, proudly accepts her Cancer Care Human Touch Award alongside (from left) Rebecca Harvey, Vice-President, Ontario Renal Network, Gord Hundal, Vice President, Not-for-Profit and Public, Royal Bank of Canada, Gail Barbour, Coordinator, LHSC, Michael Sherar, President and CEO, Cancer Care Ontario and Neil Stuart, Chair, Cancer Care Ontario. 
Rees-Newton believes each visit with them is a story, and when you listen to the story you value your patient. She helps patients find and hold onto hope as they adjust to life with chronic disease.
Her efforts for the Renal Program can be seen in all areas. She is committed to the patient and family experience. Rees-Newton knows how important it is for the families and staff to have closure together when a patient passes. She played a pivotal role in initiating the annual dialysis memorial service and continues to help with the planning.
Rees-Newton also has worked to advance the quality of the CKD education and decision support. She was a key player in formalizing the Change Process as part of the education classes at the Renal Program. In addition, she believes in supporting student education and is a role model to the interns she takes on, encouraging the growth of the next generation of social workers.
"One of the reasons I love what I do is because of the dedicated group of colleagues that I work with. They are passionate and committed to providing exemplary care to our patients," continues Rees-Newton. "I am so fortunate to work with a group of physicians, nurses and allied health who truly respect and honour what social work brings to the care of patients. I honestly would not be able to do the job that I do without the amazing team that I work with."
"Marlene's compassion and dedication to the patients and families she works with are exemplary," says Neil Johnson, Vice President of Cancer Services at LHSC and Regional Vice President of the South West Regional Cancer Program.
"Compassion is vital in healthcare as it has the ability to shape the patient and family experience," says Michael Sherar, President and CEO, Cancer Care Ontario. "This year's award recipients have gone beyond what is asked of them to provide patients with exceptional care."
The seventh annual Human Touch Awards are co-sponsored by the Canadian Cancer Society, Ontario Division and helped made possible by a donation from the RBC Foundation.