April 4, 2013
LHSC has a proud tradition of caring for those in our community both inside and outside the hospital walls. That commitment was demonstrated with the recent success of LHSC's first Spring Food Drive, to which staff and physicians donated more than 1,400 lbs of food to the London Food Bank.
"Thank you to all those who contributed to this campaign," says Bonnie Adamson, LHSC president and CEO. "I am proud that our staff and physicians continue to demonstrate to the community that our care and compassion extend far beyond our hospital doors."
While the Spring Food Drive has ended, the London Food Bank is in need of help year-round through food, time and dollars. Visit http://www.londonfoodbank.ca/ for information on how you can help.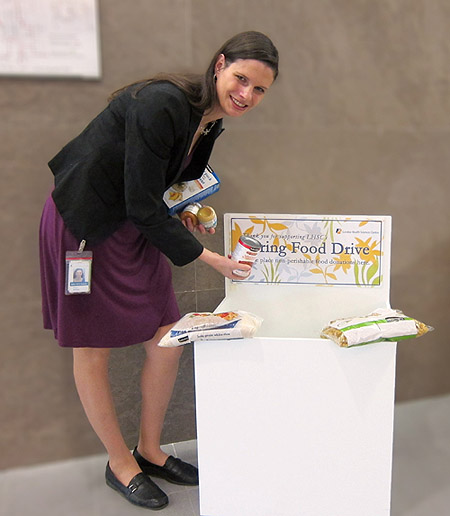 Administrative assistant Marie Mutton, who helped to coordinate LHSC's first Spring Food Drive, donated some non-perishable food items to the campaign.