February 21, 2014
London Health Sciences Centre (LHSC) is proud to announce that for the second year in a row it has exceeded its goal for the annual LHSC United Way Campaign, this year raising $152,145 to support those in need in our community.
Last year, LHSC surpassed its goal by $10,000, raising more than $140,000 in total. Recognizing that the needs in our community continue to grow, this year's goal was increased to raise $150,000 in support of the United Way London & Middlesex.
"Last year our staff and physicians showed an unprecedented level of support and awareness for the United Way, and we were confident that our campaign committee and United Way Champions would continue building on that momentum," says LHSC Acting President and CEO Murray Glendining. "We set an ambitious goal, and I am very pleased that together we have surpassed it."
This year's internal campaign theme was "Care Beyond Our Walls" to highlight the impact LHSC people can have within our community.
"We continue to be impressed by the care and compassion demonstrated by London Health Sciences Centre staff and physicians," says Andrew Lockie, CEO, United Way London & Middlesex. "Their commitment to creating a healthy community where everyone has the opportunity to succeed is inspiring."
This remarkable accomplishment could not have been achieved without the enthusiastic and dedicated support of the LHSC United Way Campaign Committee and the volunteer Champions who ran charity bake sales, raffles, mini-stair climbs and fitness events. Thank you for your support!
Visit LHSC's Facebook page to see more photos as staff and physicians announce this year's United Way Campaign total.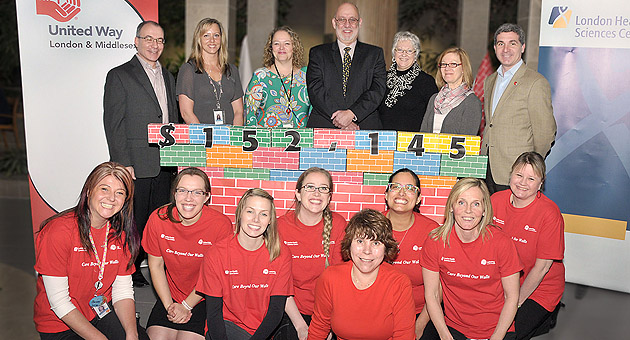 LHSC was proud to announce its 2013 employee United Way Campaign total of $152,145. This year's campaign theme was "Care Beyond Our Walls" to highlight the impact LHSC staff and physicians can have within our community.