December 31, 2014
London Health Sciences Centre (LHSC) is proud of the role we play in our community throughout the year as staff, physicians, students and volunteers often extend the care we provide beyond the hospital's walls.
This holiday season, LHSC staff generously donated nearly 10,000 lbs of food to the London Food Bank, as well as 1,100 hats, gloves, mittens and scarves to the Children's Aid Society of London & Middlesex. Of special note, more than 7, 600 lbs of the food was donated by Pathology and Laboratory Medicine!
While the 2014 food drives at LHSC have ended, the London Food Bank is in need of help year-round through food, time and dollars. Visit http://www.londonfoodbank.ca/ for information on how to help.
For more on what LHSC is doing to strengthen and enhance our community and partnerships, please visit the Caring for Our Community website.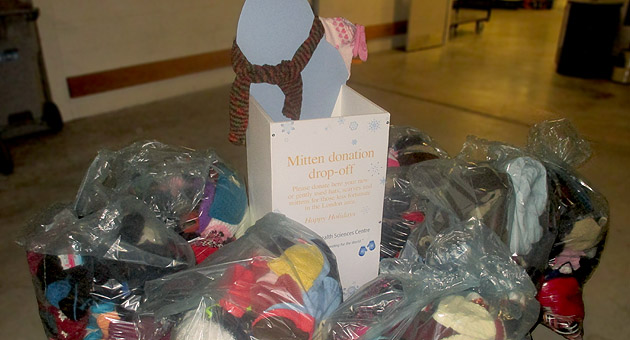 1,100 items of warm clothing were donated to the Children's Aid Society of London during LHSC's Holiday Food Drive and Mitten Campaign.