December 17, 2012
LHSC staff and physicians recently welcomed guests from the City of London's ReThink London initiative for an interactive session about the vision of our city.
"The ReThink London team offered me their sincere appreciation for LHSC's valuable contribution in considering how London will grow and what it will look like over the next 20 years," says Bonnie Adamson, LHSC President and CEO.
This city-building initiative, named Rethink London, will set the goals and priorities that will influence the future of the city for years to come. This is an opportunity for City residents to define the type of London that they would want, both now and in the future.  By taking the Visual Preference Survey, LHSC has helped to create the picture of what we would like our city to become.
The input received from the forum and other ReThink London events will inform the decisions made by city planners every day, and is critical in this master planning initiative.  The goals and directions we set as a community over the next year will determine how we live, grow, green, move, and prosper as a city. Together we can build a city that is second to none.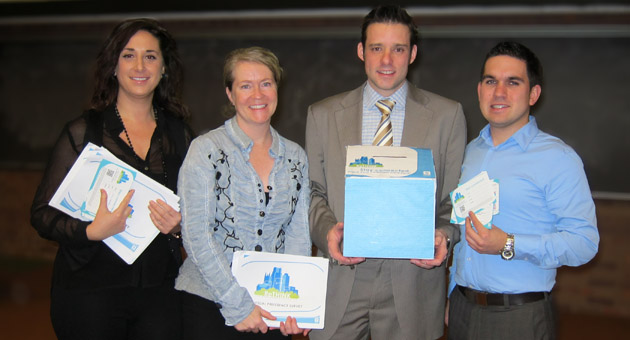 Nicole Musicco, Heather McNeely, Sean Galloway and Jerzy Smolarek from the City of London's "ReThink London" team took to staff and physicians at London Health Sciences Centre through their interactive visual preference survey.