Exceptional Experiences
April 2012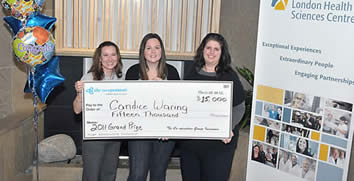 Candice Waring (centre) is presented her $15,000 cheque by representatives from The Co-Operators, Cathy Pedro, an account manager in Group Sales (right) and Gillian Byrne, Group Sales and Business Development Manager.
Candice Waring, a switchboard operator at London Health Sciences Centre (LHSC), has 15,000 new reasons to smile.
Waring, an existing client of The Co-operators Group through the LHSC group insurance program, was selected as The Co-operators Group 2011 National Grand Prize winner of $15,000. Last year individuals who contacted the insurance provider for a quote, along with existing clients, were entered into the Co-operators' national campaign to win $15,000.
Waring, who moved into her new (and first!) home in December, was the lucky winner and was recently presented her cheque. "This money will definitely be a great help. I'm sure I'll be doing some shopping for the house!" says Waring.