March 3, 2015
The London Regional Cancer Program (LRCP) has a new look after a cut-a-thon in support of cancer patients throughout the region. Sixteen staff and supporters of the program at London Health Sciences Centre (LHSC) took part in the "Cuts for Cancer" event to benefit the Canadian Cancer Society.
"As staff, we see the impact that cancer treatments have on our patients, and the effect that can have on self-confidence," said Julie Downes, LHSC Radiation Therapist and event organizer. "We consider this event an easy way for us to help support those patients, and give them some of that confidence back."
Ponytails were cut with precision, in preparation for donation to two organizations – Pantene Beautiful Lengths and Hair 360 – who will craft the hair into wigs for cancer patients. Ten hairstylists from salons throughout London and region donated their time and services to the event, with one being given the honour of performing the one and only full head shave that took place.
LHSC phlebotomist Heather Wright had been looking for a way to support the patients she sees in her lab each day, and knew as soon as she heard about "Cuts for Cancer" that she wanted to be involved. Sporting a short hairstyle already, she didn't have the minimum eight inches of length required to donate for a wig, so instead decided to show her support in the next best way – she had her head shaved entirely.
"I have worked at LRCP for eleven years, and truly have come to love my patients," said Heather. "When I heard about this event, I realized this was my opportunity to make a difference for them. I am thrilled to be a part of it."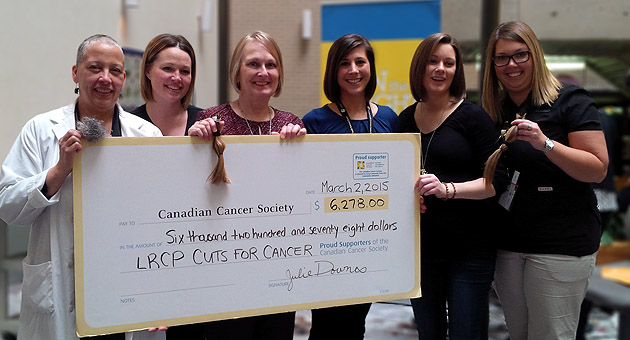 Participants also raised over $6200 in donations for the Canadian Cancer Society (CCS). Money raised will support CCS funded life-saving leading edge research projects right here in London and across the country and will support cancer patients and their families in our communities. The funds raised will enable the Elgin-Middlesex Community office in London to continue to provide volunteer rides and family provided transportation assistance to more than 600 adults and children and their families annually to cancer treatment at the LRCP and surrounding cancer treatment centers through the Wheels of Hope program.
A big 'thank you' to hairstylists from Salon Entrenous, Dudes & Dames Hair Designing Salon (Stratford), Take Two Hair Design (Exeter) and to stylist Rick Spencer for your time and exceptional talent.
See more photos from the Cuts for Cancer event on LHSC's Facebook page!