July 19, 2018
To encourage acceptance, inclusion, education, and celebration of the LGBT+ community in London, and to demonstrate that everyone is welcome to work and receive care at London Health Sciences Centre, we are proud to support Pride London.
In support of this year's Pride London Festival (July 19-29), LHSC will be flying the rainbow Pride flags at our hospitals, and is proud to be participating in the 2018 Pride Parade.
Additionally, as a permanent symbol of our support for the LGBT+ community, LHSC has painted rainbow crosswalks at both University and Victoria hospitals.
Be sure to wave hello to the LHSC group of staff, physicians, students, volunteers, and friends and family walking in the 2018 Pride Parade on July 29. We look forward to seeing you there.
See our Facebook post for more photos. 
Happy Pride!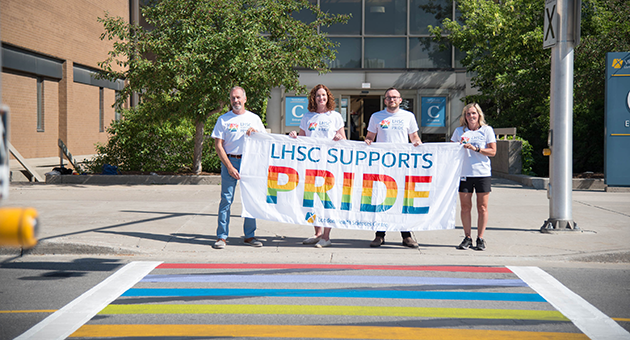 Dr. Paul Woods, President and CEO, stands with members of the LHSC Pride committee at one of the new rainbow crosswalks at Victoria Hospital.