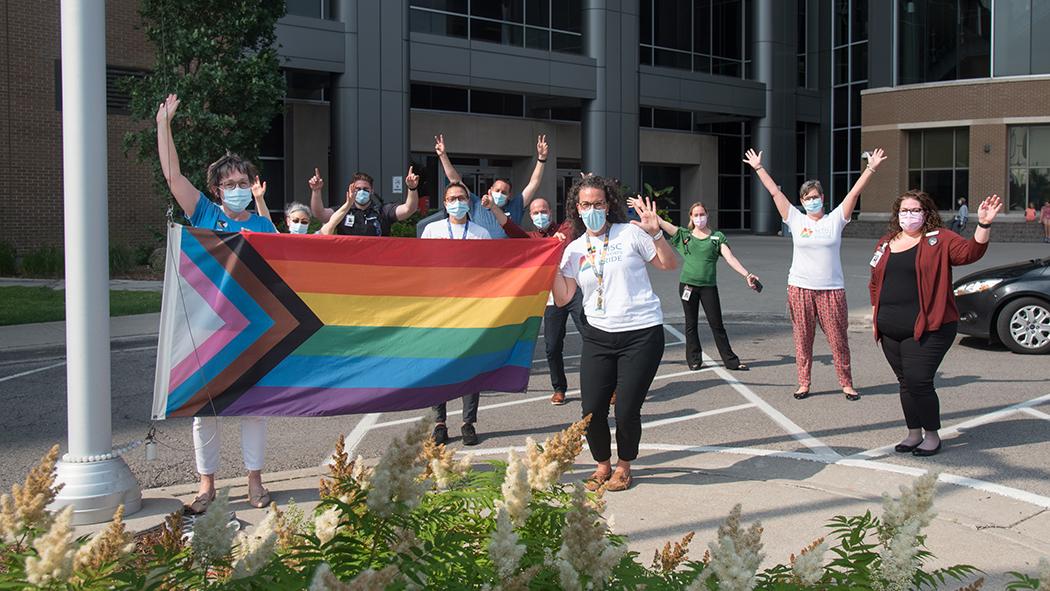 Pride 2021 flag raising at Victoria Hospital
Pride London Festival runs July 15-25 
Today, London Health Sciences Centre (LHSC) was pleased to raise the Progress Pride flags at University, Children's and Victoria hospitals to kick off the Pride London Festival, running July 15-25, 2021.  
Through our involvement with Pride London, we are pleased to encourage acceptance, inclusion, education, and celebration of the LGBT2Q+ community in London, and to demonstrate that everyone is welcome to work and receive care at LHSC. This year, we raised the Progress Pride flag in place of the traditional rainbow flag. The Progress Pride flag symbolizes a further commitment to support the LGBT2Q+ community, as it features a chevron with black and brown stripes to acknowledge people of colour, and incorporates the transgender Pride flag. This updated design also pays respect to the activists who inspired the very first Pride festival, more than 50 years ago. 
Pride 2021 flag raising at University Hospital. From left to right: Devin Sturdy, LHSC Pride Committee member; Dr. Adam Dukelow, Chief Medical Officer, Executive Vice President; Jill Sangha, Health Equity Specialist, LHSC Pride Committee member
In support of this year's Pride London Festival, LHSC has refreshed the painted rainbow crosswalks at University, Children's and Victoria hospitals, which are our permanent symbols of support for the LGBT2Q+ community. These can be found on Perth Drive in front of University Hospital, and near zones B and C entrances at Children's and Victoria hospitals. LHSC will also light the North Tower (Zone B) atrium at Victoria Hospital rainbow colours. You'll also see that our LHSC logo has been updated to reflect the Pride rainbow icon on our social media platforms and websites.  
With no in-person festivities planned for this year due to COVID-19 restrictions, we encourage you to follow Pride London on Facebook and Twitter throughout the festival to take part in planned virtual events. 
Happy Pride!