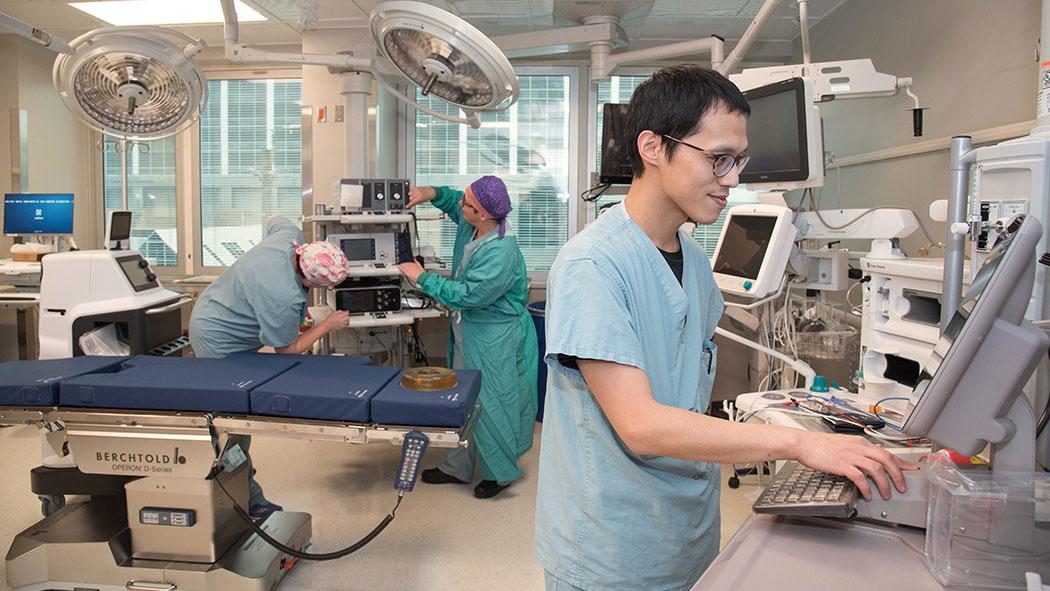 Photo: Staff prepare for the opening of the new LHSC Surgi-Centre site in February 2020, prior to COVID-19.
Improving patient experience and efficiency are the goals for London Health Sciences Centre's (LHSC) new Surgi-Centre. The off-site day-surgery facility, which opened in early 2020 across from Victoria Hospital on Baseline Road, has completed more than 100 surgeries.
Currently focusing on orthopaedic and sports medicine surgeries that are low-risk, the Surgi-Centre model enables lower complexity procedures to be successfully performed, improving patient experience, efficiency, and reducing cost by streamlining processes, equipment and staff.
"We are excited to be able to provide this new level of care for our patients," says Dr. Paul Woods, President & CEO of LHSC. "This strategic investment is helping ensure we deliver exceptional quality and safety for our patients, while simultaneously gaining efficiencies and strengthening value for our hospital."
The Surgi-Centre is presently equipped to perform surgeries in the areas of orthopaedics and sports medicine. Patients deemed "low-risk" by their surgeon can now have foot procedures, ankle, hip and knee arthroscopies, and ACL repairs performed at the Surgi-Centre.
For patients like Lawrence Jardine who was the one hundredth patient to undergo surgery at the Surgi-Centre, the experience was positive. "The staff and physicians were very friendly, informed and compassionate," Jardine says. "I never felt like I wasn't part of the process. It was great." Jardine underwent a fusion of the joint in the big toe of his left foot in early July. "It was so easy to locate and it was nice not having to go through the main hospital," says Jardine.
This investment is helping improve the patient experience by improving patient flow, enhancing recovery, and helping reduce the backlog in some types of surgeries which was perpetuated by the COVID-19 pandemic. Originally designed to help reduce the number of surgical cancellations and delays resulting from emergent and urgent cases that take priority in LHSC's operating rooms, the LHSC Surgi-Centre is assisting in the rescheduling of surgical cases and improving patient experience.
LHSC has been working on this project for more than five years, including a pilot project led by Dr. Abdel-Rahman Lawendy, an orthopaedic surgeon. "A significant body of literature supports the use of ambulatory care centres for surgical care delivery. This process has demonstrated excellent clinical results in the United States and has a positive impact on patient experience," Dr. Lawendy says.
The Surgi-Centre meets all facets of Ministry and Accreditation Standards. The Surgi-Centre model enables lower complexity procedures to be successfully performed, while minimizing use of personal protective equipment.
Nursing staff are rotating from Victoria Hospital (VH) as the Surgi-Centre is an extension of VH's operating rooms. The same policies and procedures that govern surgeries at VH are also governing the Surgi-Centre with some adjustments for the environment.
As a patient, Jardine was impressed by the whole experience from the ease of finding the location, quick reception and registration to the level of communication and team work that he witnessed among all the staff and physicians at the Surgi-Centre.
"I was really impressed at the end of the day – I saw how the whole team gets together. It looked like they were doing a full team debrief of how the day went," explains Jardine. "I was impressed with how they were organized and worked together." Full team debriefs are part of the daily operations at the Surgi-Centre to assist in continual improvement of the patient experience, safety, team building and to ensure sustainability.
The Surgi-Centre is helping LHSC to improve the value of services provided to patients.