February 9, 2015
Last week, LHSC's Injury Prevention program took part in the Race Against Drugs (RAD), an RCMP led initiative to educate grade five students about the dangers of drugs and alcohol. 
The primary objective of this drug education event is to utilize the sport of auto racing to capture the attention of young people and communicate with them through an exciting and high profile sport - one with no tolerance for substance abuse. Racing Against Drugs is designed to promote healthy, drug free lifestyles and to allow children the opportunity to experience the excitement of racing by competing on a professionally built 1:24 scale slot car track.
This year was RAD's 20th anniversary, and LHSC's first time participating. Other organizations in attendance included the London Fire Department, London Police Service, MLEMS, Military Police, CN Police, Crime Stoppers, London-Middlesex Health Unit, RCMP, along with several other agencies. 
Each group of students travelled to 12 'pit stops', spending seven minutes at each station. At LHSC's station, the injury prevention team had set up a tic-tac-toe trivia game. Trivia included information about the medical consequences of using drugs and alcohol and also highlighted many misconceptions. Two teams were formed and trivia alternated between the teams. Instead of X's and O's, images of hearts and brains were used to complete the board.
Other stations included the use of fatal vision goggles, "drunk goggles," videos, games, and even a simulated jail cell.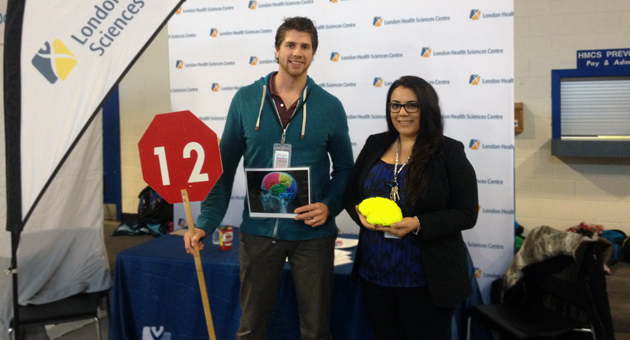 Brandon Batey, Injury Prevention Specialist and Tania Haider, Injury Project Associate at the LHSC 'pit stop'