London Health Sciences Centre (LHSC) will be hosting a tweet chat on Twitter recognizing National Organ and Tissue Donor Awareness Week, April 19 - 26.

Dr. Alp Sener, LHSC Transplant Surgeon, will be answering questions about organ donation and transplantation.
Those on Twitter can follow along at @LHSCCanada and ask Dr. Sener questions during the live chat using #LHSCTransplant on Wednesday, April 22, 2015, from 12 to 1 p.m.

The Multi-Organ Transplant Program at LHSC is one of the leading transplant programs in Canada, performing about 160 transplants annually. More than 5,000 Canadians have received transplants, including heart, kidney, kidney-pancreas, liver, and multi-organ transplantation, at University Hospital and Children's Hospital.

Just one organ donor can save up to eight lives, but at any given time there are more than 1,500 people in Ontario waiting for a life-saving organ transplant. Only about one quarter of those eligible in Ontario are registered donors. In the London region, 35 per cent of eligible people are registered as donors and we have one of the highest organ donation rates across all of Canada.
Visit beadonor.ca to learn more and how to register as an organ donor. LHSC is proud to partner with the Trillium Gift of Life Network for our workplace registration drive: https://beadonor.ca/lhsc.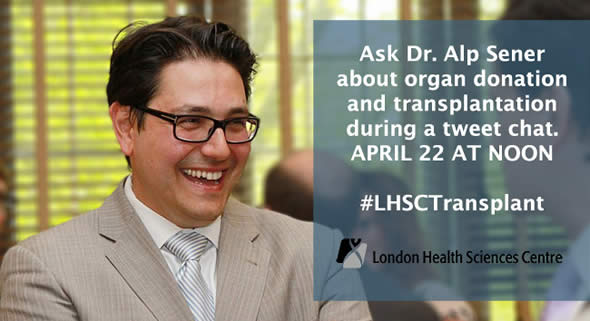 Please note the #LHSCTransplant chat is for educational purposes only and is not intended to dispense medical advice. For personal health questions, please contact your health care provider. See LHSC's Social Media Commenting Policy and Terms of Use.
---

About Dr. Alp Sener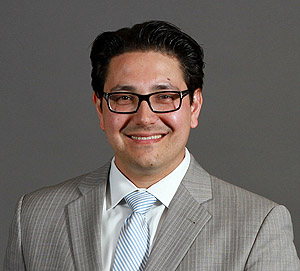 Dr. Alp Sener earned his Biology degree from the University of Texas at Austin in 1994. Upon concluding his undergraduate studies, he obtained his PhD in renal physiology in 1999, followed by his MD in 2002 from the University of Calgary. Subsequently, Dr. Sener completed his Urology residency at the University of Western Ontario and became a fellow of the Royal College of Physicians and Surgeons of Canada in 2007. Dr. Sener spent two years at the University of Maryland Medical Center in Baltimore as the American Society of Transplant Surgeons/Novartis Fellow in Transplantation. While in Maryland, he was trained in kidney and pancreas transplantation and completed a research fellowship in transplant immunology. Dr. Sener joined the Division of Urology in 2009 as an Assistant Professor of Surgery and of Microbiology & Immunology and was the first surgeon to receive the Schulich Clinician Scientist award from the University of Western Ontario.

Dr. Sener has been the recipient of several national and international awards, has co-authored more than 120 peer-reviewed articles and abstracts and has presented at numerous international transplant and urology meetings. Dr. Sener serves as the Chair of the Surgical Research Committee as well as the Director of the Kidney Transplant Fellowship program and of the Urology Residency Program at the University of Western Ontario.

In addition to a general urology and kidney/pancreas transplant directed clinical practice, Dr. Sener maintains an active basic sciences and translational research laboratory focusing on the innate and adaptive immune responses in graft rejection as well as in developing novel methods of mitigating organ ischemia-reperfusion injury associated with transplantation. He is heavily involved in promoting research and education through his active roles on various Urology and Transplant organization steering committees at the local, national and international levels.