July 12, 2012
For researchers across Canada, and around the world, obtaining high quality tumour samples for cancer research can be a challenge - particularly for rare cancer types. London Health Sciences Centre (LHSC) has been helping to address that challenge since 2004, collecting over one third of the tumour samples available to researchers through the Ontario Tumour Bank (OTB), a provincial biobank owned and managed by the Ontario Institute for Cancer Research, a not-for-profit organization. LHSC is one of four collection centres making up the OTB, which in May passed the 10,000 donor milestone.
Operating with a small staff, the LHSC tumour bank has built a strong relationship with OR, pathology, and clinical staff, enabling them to identify and meet with patients prior to surgery to obtain necessary consents to bank samples of their tumour. 
"Most patients are very open to donating their tumour for research purposes. In fact, our consent rate ranges between 97-99%, which demonstrates the value patients place on cancer research.  They appreciate having the opportunity to contribute to new understanding in the field of cancer research", says Kalan Lynn, Clinical Research Assistant.
Once consent has been obtained, and surgery performed, the tissue is sent to the pathology lab where great care is taken in sampling the specimen so that diagnosis is not compromised. Tumour bank Research Assistant James Sinfield then prepares the tumour samples for banking and storage in minus 160 degree Celsius freezers.
"We collect samples of both cancerous as well as normal tissue, in addition to a blood sample, offering researchers everything they need to analyze a patient's tumour. Right now we have over 24,000 samples in storage", says Sinfield.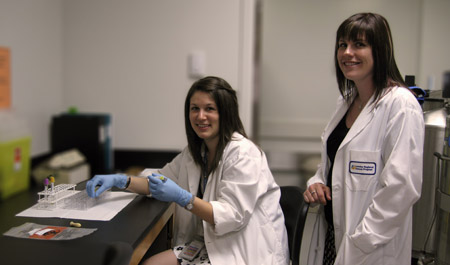 Kalan Lynn, Clinical Research Assistant, with James Sinfield, Research Assistant, preparing blood sampling for banking. Missing: Lee-Anne Pickard.
In an average month, the bank will collect tumour tissue and data from approximately 30 donors, with up to 15 samples being taken from each. Researchers are able to request data by specific criteria, or simply by tumour type, depending on the nature of their research. Samples are stored using a confidential numbering system, ensuring no identifying information is passed on to researchers.
To date, LHSC patient tumour samples have been shared with researchers across Canada and the USA, and as far away as Australia, Luxembourg and Israel.  Although donors are never directly notified of the research results tied to their contribution, department staff keeps tabs on journal articles pertaining to the research to see what breakthroughs are being made.
Says Sinfield, "We are very proud of the contribution we're making to the field of cancer research, and it's great to see our efforts making a difference. This wouldn't be possible without the help of our surgeons, pathologists, and nurses."
 For more photos of LHSC's tumour bank, visit LHSC's Facebook page.