January 29, 2013
The LHSC employee United Way Campaign benefited this year from the help of some very dedicated individuals, including the 42 volunteer United Way "Champions".
One of those Champions — Laura Gopaul, a customer service rep with LHSC's London Laboratory Services Group — was recently honoured with a United Way Labour Appreciation Award. The awards are presented to 12 unionized employees from organizations across London who have been nominated for their generous support and efforts towards their workplace United Way Campaign.
Gopaul, a member of COPE 468, organized a number of innovative events and initiatives to help support the LHSC United Way Campaign, including pizza lunches, 50/50 draws, massage days and cookie days. She even organized a mini-stair climb in the new North Tower (zone B) at Victoria Hospital to mimic the corporate United Way Stair Climb.
"Volunteers like Laura are the heart and soul of United Way London & Middlesex," explains Andrew Lockie, CEO. "We are grateful for the generosity and commitment of workplace volunteers who help us raise funds and more importantly, help us create lasting change in people's lives and our community."
This was the first year that Gopaul has been involved with the United Way, but she says it became quickly clear that volunteering her time and efforts for the organization aligned with her personal philosophy.
"From the first Champions' meeting, I was just amazed at how many different community groups the United Way supports," says Gopaul. "It was really eye-opening to me, and I knew it was something I wanted to be a part of."
Gopaul has been involved in volunteering for a number of community organizations, which was part of why she was nominated for the award. Each of the nominees has gone above and beyond in their dedication to helping our community, through their efforts to both the United Way Campaign and the community in general.
"I would like to thank all of our United Way Champions for their efforts during the LHSC campaign," says Bonnie Adamson, LHSC President and CEO. "In particular, I would like to extend my congratulations to Laura on her award, and offer my sincere appreciation for her commitment and enthusiasm to helping make our campaign such a great success."
Gopaul says receiving this award was certainly unexpected but is a great honour. She had such a great time with the 2012 LHSC United Way Campaign and plans to support it again next year.
"I'd love to be involved again next year. I'm really proud of the staff who took part, and appreciate the support of everyone for the campaign."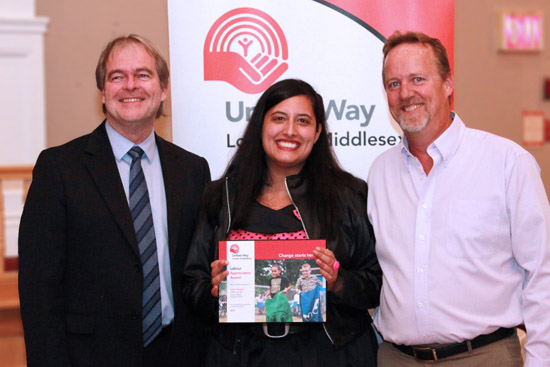 Laura Gopaul, a customer service rep with London Laboratory Services Group received a United Way Labour Appreciation Award on Jan. 17. Pictured with Laura are Bill Tucker, 2012 United Way Campaign Chair and Jim Kennedy, 2012 United Way Campaign Vice-Chair.