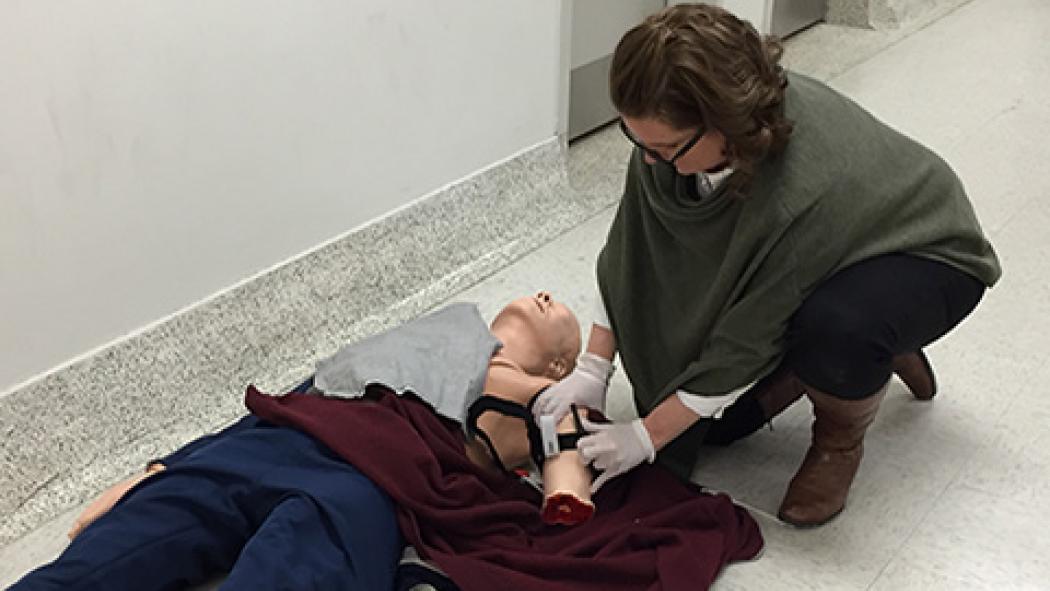 January 31, 2019
Would you know what to do if you encountered someone with traumatic bleeding?
London Health Sciences Centre's (LHSC) Trauma Program is dedicated to providing safety education initiatives aimed at preventing injuries and keeping people out of hospital emergency rooms. The reality is that traumatic injuries can occur in the blink of an eye, often with devastating consequences. Severe bleeding, if not stopped or slowed in time, can result in death within minutes.
This month, LHSC is launching a new free education program called "Stop the Bleed®" aimed at teaching individuals in workplaces, organizations and community settings what they can do if they encounter someone with a bleeding emergency.
"We know that when bystanders are knowledgeable in techniques to help stop someone's bleeding, the potential outcomes for the patient are greatly improved," says Alison Armstrong, Trauma Program Coordinator at LHSC. "Knowing how to use a tourniquet, or where to apply pressure until first responders arrive on-scene can quite literally make the difference between the individual living or not."
The Stop the Bleed program was introduced in the United States in 2015, and is aligned with the American College of Surgeons' "Bleeding Control Basics" course which is now taught throughout the US and Canada. The 90-minute Stop the Bleed program can be tailored to specific workplaces and scenarios, and will be offered free of charge.
"Stop the Bleed has proven to be a valuable tool in informing and educating the public on effective techniques to stop or slow blood loss. Our goal is to reach as many individuals and groups as we can with this program, and ultimately, to help save lives," says Armstrong.
LHSC will be offering its first public training course on Thursday, February 7, 2019 from 6:00pm-7:30pm at Victoria Hospital. Individuals interested in registering for the course are asked to contact Tammy Mills at tammy.mills@lhsc.on.ca or 519-667-6795.
Companies and organizations interested in bringing this training into their workplace are also invited to contact the trauma program to learn more.