June 7, 2013
LHSC's Home First project won a South West Local Health Integration Network (SW LHIN) Quality Award at its Quality Symposium in Stratford, Ontario on June 6, 2013. The Quality Award recognizes and celebrates the hard work of front line health service providers who constantly and consistently want to improve the level of care they provide to their patients and clients.
Home First, a collaborative program of LHSC and the South West Community Care Access Centre, and funded by the South West LHIN, is designed to enable hospitalized seniors and adults with complex needs to return home, with proper supports, rather than remaining in hospital or being discharged to long-term care.
Home First promotes a cultural shift towards proactive discharge planning with home as the primary discharge destination. Working together, patients, family members, physicians, hospital staff and the CCAC care coordinator can develop a care plan that best suits the patient's needs in the home, and in many cases, prevents the need for transition to long term care.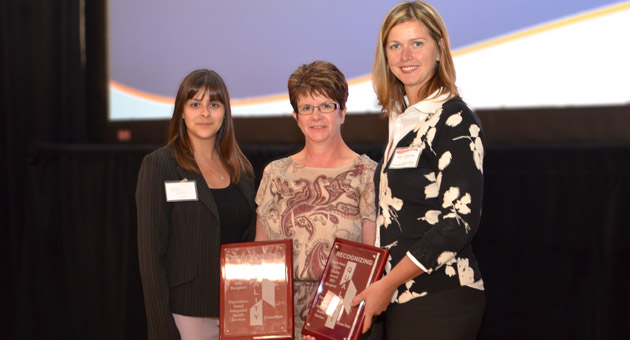 LHSC's Natalie Berkiw and Sherri Lawson, with Jennifer Fazakerley, SW CCAC, accept the SW LHIN Quality Award for Home First
Since its inception at LHSC, Home First has resulted in 313 patients being able to go home on the Intensive Hospital to Home program.
"I am very proud of the results that have been achieved through the Home First program and congratulate the team members being recognized with this award," says Bonnie Adamson, LHSC President and CEO. "This award demonstrates that through strong collaboration, LHSC, the CCAC and the LHIN are making a real difference in the quality and safety of patient care."
To learn more about Home First, go to the LHSC website or visit page 16 of the April edition of Hospital News.
The SW LHIN Quality Awards program was developed to recognize organizations that have implemented a sustainable quality improvement initiative to achieve performance excellence.