August 1, 2014
The Non-emergent Patient Transport (NEPT) initiative won a South West Local Health Integration Network (SW LHIN) Quality Award at its recent Quality Symposium.
A first in the province, the NEPT initiative was led by LHSC in collaboration with hospital organizations in the SW LHIN, who worked together to develop a common set of decision guidelines and clinical standards for hospital to hospital non-emergency patient transportation of medically stable patients.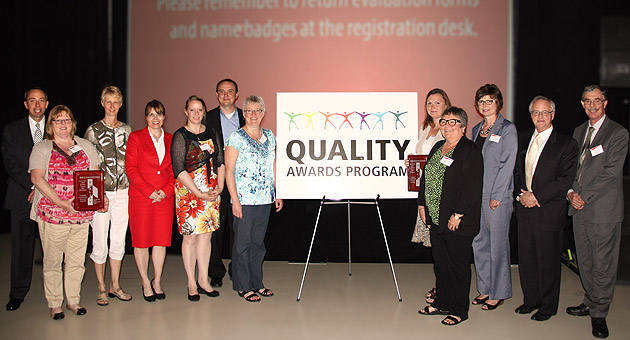 Non-emergent patient transportation project team members accept the SW LHIN Quality Award
Non-emergent transportation is used for medically stable patients who need to be moved from one hospital to another. Examples of medically stable patients include people who are no longer critically ill and require transfer from one hospital to another for additional inpatient care, or patients who need specific services such as kidney dialysis or cancer treatment associated with their current admission when other transportation options such as EMS (ambulances) are not suitable.
Prior to the implementation of this LHIN-wide approach to non-emergent transportation service delivery, there were no established standards to follow, and various transportation providers, including EMS, were called upon to transport patients. The primary mandate of EMS is to be available to respond to community emergency calls. Non-emergency transportation calls to EMS could reduce the availability of EMS in the event of an emergency.
Standards have now been developed for non-emergency transportation vehicles, including their on-board equipment and qualifications.
"LHSC is very proud to be involved in this South West LHIN wide initiative to improve the patient experience," says Judy Kojlak, LHSC Director, Patient Access. "This award demonstrates that through strong collaboration, LHSC, the CCAC and the LHIN are making a real difference in the quality and safety of patient care."