August 11, 2015
London Health Sciences Centre (LHSC), in partnership with Canadian Blood Services, is proud to announce that it has won the Canadian Blood Services Hospital Challenge — a regional competition between hospitals from across south-central  Ontario to donate the most units of blood in June and July.
LHSC surpassed the competition, donating 109 units during the two-month challenge, more than double the number achieved by the closest competitor. LHSC also had the most first-time donors with 15 new donors rolling up their sleeves during the challenge.
The Hospital Challenge helps to address the increased need for blood during summer months when many regular donors are away on vacation. With its regional trauma and cancer programs – both high blood-product users – LHSC  knows the need for blood is constant; it can take up to five donors to help someone undergoing cancer treatment and up to 50 donors to help save someone who has been in a motor vehicle collision.
"As health-care providers, LHSC has an imperative to help maintain a stable blood supply," says Carol Young-Ritchie, Vice President of Patient-Centred Care. "I am proud and appreciative of all those staff, physicians and volunteers who rolled up their sleeves to donate. Their support for this vital community service is one more way LHSC continues to provide exceptional experiences for our patients."
LHSC has been a proud Partners for Life member with Canadian Blood Services since 2012. As a member of this program, LHSC demonstrates a lasting commitment to saving lives by setting an annual target for blood donation and encouraging staff, volunteers and physicians to help reach that target.
"Canadian Blood Services is proud to partner with LHSC, and other Ontario hospitals to encourage blood donation during summer months, and we congratulate them on winning this significant challenge," says Michael Betel, Director of Donor Relations. "We would like to thank all of the donors who participated, including some first-time donors, and invite them back to help replenish our national blood supply on a regular basis."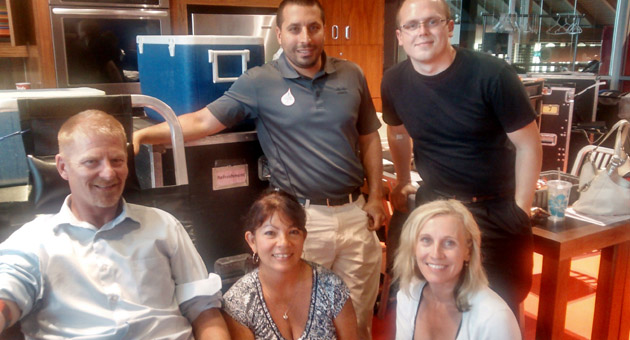 Members of the Information Technology Services team traveled to a mobile clinic on July 14 to donate as a group, which is a great way to promote the importance of blood donation. In addition to those pictured (from left: David Veeneman, Trudy den Ouden, James Tavares, Lynn Bender, and Keegan Veilleux) there were 12 people in total from ITS who donated with this group, which included three first-time donors!