June 20, 2013
On June 19, LHSC held its 2013 Annual Community Meeting (ACM) at Victoria Hospital. Hosted by Bonnie Adamson, President and CEO, and Ruthe Anne Conyngham, Board Chair, the ACM is an opportunity to bring together staff, physicians, community members and donors to celebrate accomplishments over the past year and highlight goals for the future. The members of the 2013/14 Board of Directors were also announced.
Staff, physicians, community members and donors gathered together to hear reports from LHSC as well as Children's Health Foundation, London Health Sciences Foundation, Lawson Health Research Institute and LHSC's Medical Advisory Committee. At the meeting, Adamson was pleased to report that LHSC has maintained a positive financial position throughout the past fiscal year thanks to the tireless work of our staff, physicians, students and volunteers. Our 2013 Financial Report is available online.
London Health Sciences Centre is on a multi-year journey of cultural transformation. Together we are shifting our organization to one that emphasizes high-performing teams, systems thinking, empowerment, collaboration and accountability. This shift will position our organization to become a leader in providing excellence in patient-centred care while contributing to the larger-scale transformation in how health care is being delivered in Ontario.
At the same time, we will continue to seek new ways to improve the lives and outcomes of our patients. At LHSC we are proud of the many roles we play in the lives of people in London and throughout Ontario. Through our three strategic goals of performance excellence, academic and scholarly leadership, and exemplary partnerships, we are embracing the future of health care while continuing our focus on those we serve.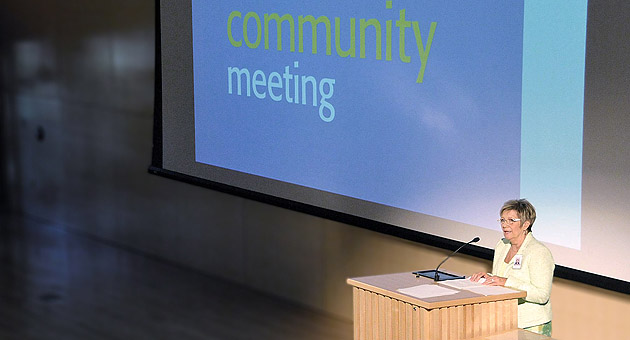 LHSC President and CEO Bonnie Adamson delivers her year-end remarks at the 2013 Annual Community Meeting.