June 26, 2014
On June 24, LHSC held its 2014 Annual Community Meeting (ACM) at Victoria Hospital. Hosted by Murray Glendining, President and CEO, and Ruthe Anne Conyngham, Chair of the Board of Directors, the ACM is an opportunity to bring together staff, physicians, community members and donors to celebrate accomplishments over the past year. The members of the 2014/15 Board of Directors were also announced.
At the annual meeting LHSC was pleased to present its 2014 online annual report, offering more detailed highlights of the year in review, updated patient statistics and condensed audited financial statements. Within the online report is a link to the latest issue of LHSC's Inside publication that will be on newsstands this Saturday, June 28.
Ontario's health-care system is in the midst of sweeping transformation, and LHSC is playing a leading role in helping to build a stronger, more sustainable model for future generations. LHSC is delivering on its strategic priorities which focus on clinical excellence, patient- and family-centred care, and working with system and community partners to develop more seamless care pathways for patients at every point on their health-care journey. With a rich teaching and research mandate, providing high-quality and exceptional care remains at the centre of everything LHSC does.
"Thank you to the staff, physicians and volunteers at LHSC for your exceptional dedication to advancing health care in our community," said Glendining to the audience. "I am excited about the changes ahead, and I am energized and inspired by the people we are working with to make them happen. The future of health care is now, and it's only just beginning."
See more photos from LHSC's Annual Community Meeting on Facebook.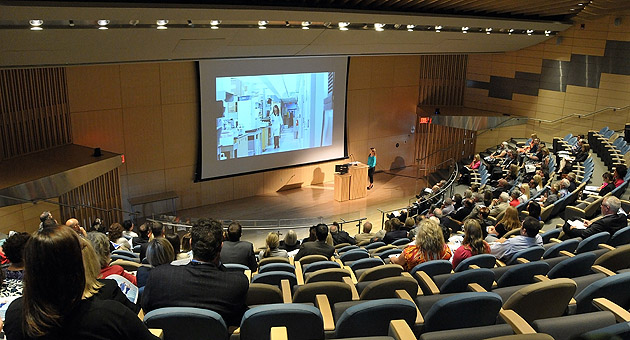 LHSC held its 2014 Annual Community Meeting on June 24. Pictured at the podium is Tracy Gustafson, Board Chair of Children's Health Foundation.