December 1, 2016
London Health Sciences Centre (LHSC) is proud of the role we play in our community throughout the year as staff, physicians, students and volunteers often extend the care and compassion we provide beyond the hospital's walls.
This holiday season, as part of the organization's 2016 Holiday Boot & Mitten Campaign, LHSC staff generously donated over 1,000 items including boots, gloves, mittens, hats and scarves, along with snow pants and winter coats in support of the United Way's "Give Cold Feet the Boot" campaign, which will distribute the items to neighbourhood resource centres across the city.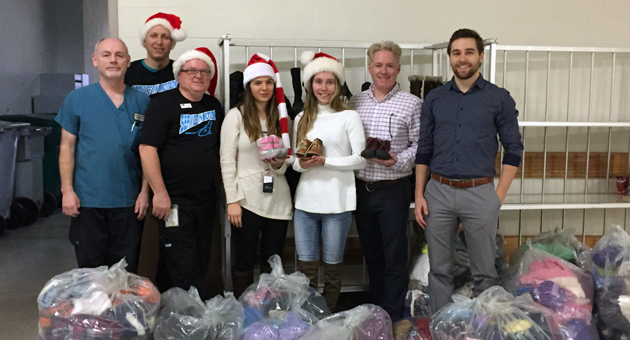 Clothing items donated during the campaign are ready for delivery to neighbourhood resource centres throughout the city.  From left: Rob MacBean (porter), Ben Alton (porter), Stephen Tompkins (porter), Cara Gordon (LHSC Social Worker and United Way GenNext volunteer), Laura Rosato (LHSC Nurse and United Way GenNext volunteer), Eamonn Cullen (Portering Coordinator), Chris Fry (Portering Coordinator).